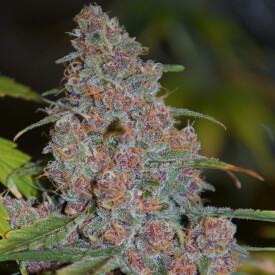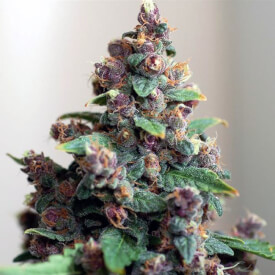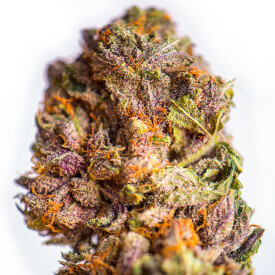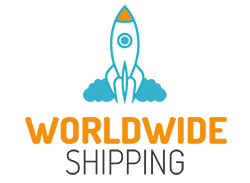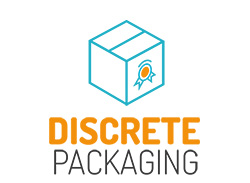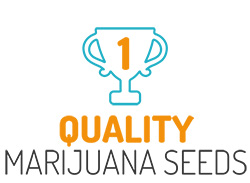 Caramel Auto Feminized
This sweet-smelling strain is the result of an ingenious cross between 3 very special ancestors: Afghan Kush x Maple Leaf Indica and Blue Black. This unique gene pool has resulted in one of the best Indicas on the market today. Medium-height plants with large sticky buds and that quintessential sweet creamy caramel taste combined with earthy undertones make it the ideal weed for anyone in the mood for a scrumptious treat.

This 80-20 Indica-dominant strain also offers many great Sativa characteristics such as an uplifting and social high. A sturdy strain that produces appealing easy-to-grow plants with about 20% THC which offer an impressive yield and are finished after about 8 to 9 weeks of flowering.

Read Full Description
Caramel Auto Feminized
This sweet-smelling strain is the result of an ingenious cross between 3 very special ancestors: Afghan Kush x Maple Leaf Indica and Blue Black. This unique gene pool has resulted in one of the best Indicas on the market today. Medium-height plants with large sticky buds and that quintessential sweet creamy caramel taste combined with earthy undertones make it the ideal weed for anyone in the mood for a scrumptious treat.

This 80-20 Indica-dominant strain also offers many great Sativa characteristics such as an uplifting and social high. A sturdy strain that produces appealing easy-to-grow plants with about 20% THC which offer an impressive yield and are finished after about 8 to 9 weeks of flowering.
Growing Caramel cannabis
It's no surprise that this sweet strain has won many awards. They are easy to grow and easy to maintain. This makes it an ideal plant even for novice growers. Trust us, growing this strain will be your new favorite thing to do in your garden.
When you opt for indoor growing, this strain will grow approximately up to 70 cm/ 28 Inch. Outdoors the plants can grow as tall as 210 cm/83 Inch.
In terms of yield, you can expect about 400 Gr. / 14 Oz. per M2 Indoor and around 550 Gr. /19 Oz. yield per M2 outdoors. The best month to harvest your weed outdoors is September/October.
The appearance of Caramel
Caramel marijuana seeds will grow into a medium-height plant that can get rather bushy. Thick stems support a large number of incandescent, heavy, dense buds at every internode. To top that off, the fat buds are covered in chunky, sweet, and sticky resin.
Exposing a wide array of colors including purple and red trichomes, and some that even display subtle blue and black hues, Caramel will make an amazing addition to any garden or grow space.
The sweet scent and flavor of the Caramel strain
The typical taste is exactly as you would expect: earthy, sweet caramel with a bit of honey and vanilla flavors. The creamy butter-like smoke has an unparalleled taste and mouthfeel and stimulates the senses.
Due to its sweet earthy flavors, this strain also lends itself perfectly to creating edibles. Imagine making chewy homemade, cannabis-infused cream caramels or taste a delicious bowl of cannabis popcorn or sweet brownies! A little bit of Google search is bound to find you a perfect recipe.
Effects of Caramel feminized marijuana seeds
The divine scent and sweet taste are matched by energizing effects that uplift the user and improve the mood. Where the addition of Afghan Kush has a strong influence on the ease of growth, the influences of ancestor x Maple Leaf Indica are clearly noticeable in the effect. The uplifting head high can pull you out of any bad mood you may experience and will leave you cheerful and giggling for hours.
Caramel is especially popular among users with a predilection for Indica-dominant strains with long-lasting cerebral effects rather than an overwhelming high.
As the warm sense of bliss spreads, a burst of energy flows through the muscles. Unlike most indica strains, Caramel stimulates the user both mentally and physically.
If you wait about an hour, the initial energy charge gradually decreases and gives way to a rosy feeling that spreads over the entire body. This allows the user to go about his daily tasks completely relaxed while remaining a clear head.
Possible adverse side effects like cotton mouth or dry eyes can be easily kept to a minimum by making sure to stay properly hydrated while smoking this strain.
Medicinal benefits of Caramel feminized
Due to the mood-elevating buzz, the Caramel strain is often considered a recreational strain. However, the same happy high can also have a positive effect on stress, anxiety, and pain. The uplifting sensation offers some anti-depressant qualities that can be beneficial for symptoms of mental health issues like depression or PTSD.
When using higher concentrations she can be used as opposed to synthetic painkillers to relieve various pain and discomforts of the body.
The creamy sweet scent and taste can increase the desire to eat which makes it great for those suffering from a lack of appetite.
Another reason why this strain is slowly becoming a favorite among medicinal users is that it has high levels of THC as well as sufficient CBD content to induce a narcotic and physical high.
Eager to harvest? Try Caramel autoflower feminized (Coming soon!)
A bushy fast-maturing plant that somewhat resembles the maple leaves of its ancestor A cross between our Caramel (Maple leaf Indica x Blue Black x Afghan Kush) and a Ruderalis. Every bit as sweet tasting as the photoperiod version but with a significantly faster flowering cycle which allows you to complete not one but two full harvests in a single season.
Give your cannabis seeds the best possible start
Did you know that not only does MSB sell cannabis seeds, we also offer the opportunity to purchase a complete Grow kit with every strain of marijuana seeds? The complete grow kit that comes with your fresh seeds contains everything you'll ever need to achieve the amazing yield and healthy harvest of your dreams. 
It contains a Spongepot germination kit to ensure that your marijuana seeds will germinate quickly and are easy to repot. Thanks to Mycorrhiza, your marijuana seeds can absorb up to 7 times more nutrients, resulting in bigger, healthier plants. And finally, we have added the NPK plant fertilizer kit. This kit consists of 4 different 100% water-soluble NPK fertilizer mixtures. Every mix has been optimized for 1 of the 4 different stages of growth so that it meets the correct nutritional requirements for each stage of your marijuana seeds, from germination to flowering time to harvest. 
Buy marijuana seeds at MSB seed bank
Many growers have gone before you, but let us tell you again why you should purchase your marijuana seeds from our seed bank. Aside from providing only high-quality seeds, we feel it is our responsibility to offer the very best customer service and your wishes are of paramount importance to us. We sell our strains to anyone that wants to try their hand at growing. Not only registered users of medicinal marijuana. Just make sure to check your own local laws about receiving our products. We don't want anyone to get into trouble.
Placing your order is super easy! Our seed bank offers stealth shipping all around the world. Choose your favorite strain of cannabis seeds, click add to your shopping cart, choose one of our many payment methods and buy your marijuana seeds today.
Are you not happy about your marijuana seeds, the quality of your buds, our shipping, or some of our other products? If anyone has any questions, suggestions, share your own review, or even complaints, we ask you to simply give us a call or email us.
To see what other customers have to say about us, check out our customer ratings on KiyOh. Many of our customers have rated us 5 stars! We encourage you to write reviews about your order as well!
Caramel feminized marijuana seeds are available in a quantity of 5 seeds, 10 seeds, or 20 seeds.
Alternative versions
Caramel marijuana seeds, which are often also referred to as Cream Caramel, Caramella seeds, and the trademarked Caramelicious, just to name a few aliases under which this wonderful sweet-smelling plant is also sold, owe their name to the delicious sweet scent and taste.
Not only are Caramel marijuana seeds known under many other names, but there are also other versions on the market. Aside from Caramel auto, a synthetic variety that has a slightly different genetic up make (BlueBlack x Maple Leaf Indica x White Rhino). This variety that contains White Rhino is well known among registered users of medicinal marijuana and is available at most dispensaries.
Please know that we are working hard to add the caramel autoflower to our stock as soon as possible!
The best seeds because of research
Over the years we've made more than 200 selections, which resulted in about 40 different strains. We work on new strains daily with a great deal of enthusiasm. Our goal is to create strains for all growers. Easy to grow strains for beginning growers, but also strains that require a lot of love and attention from experienced breeders.
We try to listen as well as possible to meet the wishes of our customers, especially when they are experiencing sickness or pain.
And, in the last ten years, we have been doing extensive research. This way we were able to select and breed the best seeds. Two things that are very important for us are the continuous quality and freshness of our breeders' selection of marijuana seeds. We all grow our seeds on soil with mycorrhiza and organic fertilizers.

Breeder
Various
CBD Level
Unknown
THC Level
20%
Climate
Indoor/Outdoor
Yield indoor
400 Gr. / 14 Oz. dry weight per m²
Yield outdoor
550 Gr. / 19 Oz. dry weight per m²
Height indoor
Up to 110 cm / 43 inch
Height outdoor
Up to 200 cm / 79 inch
Flowering time
8 to 9 weeks
Indica / Sativa
80% Indica | 20% Sativa
Harvest Month
September/ October
Grow difficulty
Moderate

Stress
Pain
Depression
Insomnia
Lack of Appetite