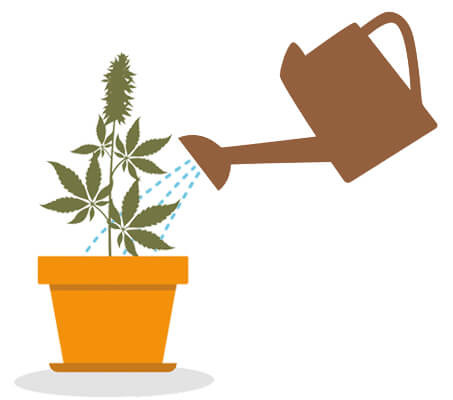 "Just add water" may apply to instant noodles or those daisies you planted last spring.
But, when it comes to marijuana plants, the whole watering process requires a little more finesse.
Not to worry though! In this article, we will cover all the ins and outs of watering weed so you can run a smooth-flowing operation.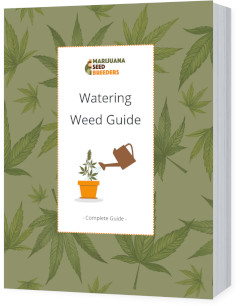 Don't have time to read the guide right now?
No worries. Let me send you a copy so you can read it when it's convenient for you. Just let me know where to send it (Takes only 5 seconds).
Thanks, we will send you the copy in a minute!
The importance of H2O
Cannabis plants, like most living things, consist largely out of water. Needless to say that maintaining that water balance is of vital importance.
Watering cannabis is a science in its own right. You will be dealing with meticulous PH values, various types of water as well as fluctuating needs during different life stages.
Overwatering could lead to nutrient deficiencies and diseases while providing too little water is often the reason for stunted growth.
It's a delicate equilibrating that you need to maintain at all times in order to get that thriving crop every grower desires. Don't let this discourage you though, we are here to walk you through how to water cannabis every step of the way.
Types of water for watering weed plants
We often don't think about it, but water comes in different types and qualities. While some are perfect for watering pot plants, others might be ill-advised due to the water containing harmful substances or unwelcome minerals and bacteria.
pH and EC values are important factors when it comes to watering plants. Not only do these factors have a strong influence on your root development and the number of nutrients they can absorb, but they also play a vital part in the general health of your plants.
What you need to keep in mind is that these pivotal factors may strongly fluctuate, depending on the source you are getting your water comes from.
Let's have a look at a few varieties and what makes them suitable (or not).
Tap water
Bottled water
Distilled water
Reverse osmosis water
Rainwater
Spring, reservoir, or well water
River water
Tap Water
By far the most frequently used source of water for watering weed. It's cheap and widely accessible. But, there are a few things to take into consideration before you reach for your garden hose. Water has different degrees of hardness. We determine the hardness of water by the amount of calcium and magnesium in the water. These elements occur naturally in rocks such as lime and chalk and our groundwater. The more of these minerals in the water, the harder the water will be.
As such, tap water can be either soft (EC - 0.4), medium (EC + 0.4) or hard ( EC + 0.8). Also, tap water generally has a pH value of over 7.0 and often contains lime, chlorine, and fluoride in some cases, which can kill soil life and decrease its quality.
To make sure your tap water is in optimum condition for your plants, there are a few precautions you can take: let the water sit for about 24h so some minerals and other components can sink to the bottom of your watering can. You could also use an osmosis filter in order to filter your water.
Bottled Mineral Water
Bottled water is perfect for people to drink. But, aside from becoming a costly affair, it might not be the best option for watering your cannabis plants. While mineral water does not contain any harmful substances, and its EC levels are lower than 0.5, with a pH around 7, it still contains high amounts of some minerals such as calcium, which may end up affecting your soil life and how your plant grows.
Distilled Water
Most supermarkets and convenience stores sell distilled water, but you can also quite easily create it at home, which makes it, even more, cost-efficient.
Distilled water doesn't contain any minerals or any other type of microorganisms. This water is perfect for plants since you basically start with a blank slate. In order to use it on plants, the only thing you have to keep into consideration is that it usually has a pH value of over 7.0 and an EC (water hardness) of 0.0. We advise simply adjusting the pH value and adding some calcium and magnesium until it reaches 0.4 EC.
Reverse Osmosis Water
Reverse osmosis water is quite similar to distilled water, just not as pure, since it doesn't remove all the minerals such as chlorine, lime, etc.) and impurities from the water.
Reverse Osmosis water arises by using a filter that traps the minerals and other unwanted particles.
You can make this type of water by simply using a decent osmosis filter and setting it up. Depending on the filter, osmosis filters tend to produce less than 0.4 EC and a pH value of about 7.0. This makes the water potable and safe to used to water your plants without needing to modify it further.
Rainwater
Rainwater sounds like the most logical option, as the water comes naturally from nature. Growers who use rainwater usually do this by using tanks that fill them with rainwater and then store it for later use.
Rainwater is one of the cleanest types of fresh water on the planet. It usually has a pH of 7.0 and an EC that does not exceed 0.4. This makes it suitable for watering almost any type of plant, as nature tends to automatically remove all harmful elements before the rain falls.
To get the highest quality rainwater, you need to set up a water collection system. Keep this as clean as possible to avoid the inclusion of elements that could reduce the quality of the water or contaminate it.
We advise you to also use an impurity filter and recommend using rainwater outside the cities. This because the rain that falls in the city contains traces of pollution because the air here often contains traces of smog or pollution.
Spring, well or reservoir water, etc.
I would honestly not recommend using water obtained from wells, springs, reservoirs, and other similar sources since you cannot be sure of its composition. A visit to the city waterboards might supply you with more information about its mineral and chemical content. This is highly important since there is a possibility that the water could be polluted with chemical insecticides or mineral fertilizer, which renders it useless for your plants. Also, these types of waters tend to contain large amounts of harmful fungi and bacteria.
In order to use this type of water, we recommend doing some serious research beforehand. If you should decide to go forward, make sure to treat the water accordingly and meticulously prepare your storage area to avoid fungi and bacteria from spreading. If you prefer to use water from your own well, you can drain it first and treat the surface using ultraviolet light or shock chlorination before use.
River Water
River water may sound like a great idea for watering weed, but I personally would advise against it. Aside from having to deal with a lot of similar issues of the previously mentioned well water, rivers are generally miles long and often polluted with pesticides or harmful substances by industrial areas or factories along the stream. Aside from that rivers can also contain dead animals that contaminate water during decomposition.
In order to use river water, you should probably live near somewhere where your town waterboard can assure you that the rivers don't contain any sort of contamination which is, in all honesty, a long shot.
What is the right temperature to water your plants?
Aside from the pH and EC levels, the third most important factor is your water temperature. If there are wide fluctuations in temperature, this may lead to problems along the way. Water that's too hot or cold will not be able to absorb certain nutrients.
When growing in soil the perfect temperature is between 20 and 23 °C, keeping in mind that the soil acts as a sort of wall between the inside and outside, which allows for slight variations in the temperature in your grow room and water.
By using a simple thermometer you ensure your plants get watered at the correct temperature.
There are a plethora of different water thermometers available, most of them pretty affordable. Some EC and pH meters can also measure water temperature accurately. Depending on the temperature, water can actually suffer certain changes in its composition, including oxygen levels.
How often should you water your plants?
How much water your plants need and when it is time to water, depends on various factors. One of them is the life phase of the plant. For instance, seedlings and clones have a much lower water requirement than vegetating and flowering plants.
Let's look at the individual stages
Germination: One of the basic things in seed cultivation is that you need to make sure to keep seeds damp but not wet. This generally means you need to water them once per day. Using a starter tray is a great option since the plastic cover works well to contain heat and moisture. Another solution to ensure the soil remains moist is to cover your container with plastic wrap.


Seedling: Seedlings are delicate and require appropriate care. Be highly meticulous and always provide them with the right amount of water. A frequent error a lot of growers make is providing them with too much water. Overwatering the seedlings in this precarious phase can "drown" them since their roots are not receiving any oxygen. As a result, this ends with the untimely death of your seedlings. Maintain the course you set on during the germination phase. Keep your seedlings moist but not wet. Make sure to never let them dry out completely either! Water the soil for your seedlings at least once per day as needed. A plant sprayer is an excellent way to water your seedlings while keeping the soil moist without letting it get too wet.


Vegetative: Plants in the vegetative stage are up for a true growth spurt. Obviously, they need enough water to thrive. You water weed depending on your pot size, I advise at least one watering per day for small pots. If you are using larger pots, increase that to twice a day.


Flowering: Watering during the flowering stage is a crucial moment. Typically, large flowering plants need water at least once every 2-3 days. Determine when it is time to water by testing the moisture level. It should feel dry on top, but still, somewhat damp below the surface. If it remains dry to the touch at depths of more than 5cm or so, your plants are probably too dry and would love to get some additional water.
How much water do marijuana plants need?
How much water your plants need depends on a number of factors, including:
Outside temperature
Stage of growth
Size of the plant
Larger plants will require more water than smaller plants. If you're growing the plants outdoors, provide them with more water when the temperatures are up, and make sure to reduce the amount of water when the humidity level is high.
Water should pool up on the surface of the soil while you're watering, but it shouldn't sit on the surface after you move on to the next plant.
If a plant is very dry, water will run straight through the pot and quickly come out of the drainage holes. When this occurs, water the plant a little, move on to the next plant, and repeat after 10 minutes as necessary. This allows the soil to gradually absorb water incrementally until all of the soil is thoroughly wet.
As the plants' lifecycle progresses, so will their need for water. You might want to provide some individual plants with additional water in between their main waterings as they grow.
Take notes and make calculations. Setting a cycle where the plant needs to be watered every two to three days is ideal. As you continue your growth you will eventually come up with the perfect watering schedule for your plants' needs.
How to tell if you are underwatering cannabis
Wilting is the first sign your marijuana plants are in desperate need of some additional H20. The cannabis leaves drooping will seem limp and lifeless and, in worse cases dry or even crunchie. It is of the essence to take action now because this condition will inevitably kill your plants if not corrected at once.
How to tell if you are overwatering cannabis
Overwatered your cannabis plants can be just as harmful as underwatering them. Overwatered cannabis plants are droopy with leaves that curl down. As a result of overwatering, leaves often turn yellow or show other signs of nutrient deficiencies (Particularly younger plants and seedlings are very sensitive to this).
When your plants are showing signs of overwatering, this does not necessarily mean you need to give them less water but rather to adjust the frequency of watering and make sure your growing medium has proper drainage.
The best method for watering weed
Instead of watering your plants in small quantities multiple times, try giving them a less frequent but efficient soak.
A proper soak implies watering them to 25–33% of the pot's capacity. This amount provides the root system with sufficient water to quench its thirst, without excess puddling and potential fungal issues.
When watering, you want to start in the middle first. After allowing the roots to breathe, continue watering the edges of the container too. This way the root ball also transports nutrients residing in the top of the medium down to the root system below.
This results in the correct amount of water minus the hassle of possible puddles. This is especially beneficial to avoid fungal pathogens that lead to root rot, which are often caused by excess water.
Besides creating holes at the bottom of your containers allowing the water to escape from, the containers should be lifted slightly off the ground, allowing the water to drain and plants won't be left in puddles of moldy water.
Why the right pH value is key
When growing in soil, the pH range of your water should ideally have a pH value of between 5.8 and 6.5
To test your water pH, you can a measuring stick or some pH measuring drops. If the pH is too high or too low, you need to adjust this. Using a few drops of pH up or pH down to reach the right level. This is especially important if you're using tap water which generally has a higher pH.
If you do not have this ready-made formula at hand, don't worry! There are other ways to get the desired ph level.
Lemon juice has high acidity and a pH between 2.0 and 3.0, so when you add a few drops to your water, this will certainly lower the pH. Appy, as needed until achieving the result you want.
Baking soda does exactly the opposite. This multifunctional substance, also known as sodium bicarbonate, is naturally alkaline and has a pH of 8. When adding baking soda to your water, you will raise both the pH value as well as the alkalinity.
A word of advice: If you're adding cannabis nutrients to your water, measure your pH after each feed. This will provide you accurate information for future growths (make sure to add this data to your growth diary). And on top of that, it will tell you if you need to increase nutrition or modify the next dosage.
Watering weed in a nutshell
Well, sorry for this lengthy narrative, there is just so much to tell!
After going through the various different types of water you can use when growing cannabis, including some you may not have thought of, the best water for growing plants is clearly reverse osmosis or distilled water. These two types of water can guarantee that your plants aren't getting any toxic minerals or anything they shouldn't get unless you're adding it to the water.
Make sure your soil never completely dries out and always, always check your PH values before watering weed. Hopefully, you will never feel like a fish out of water again when it's time to water your marijuana plants ;-)
Happy growing!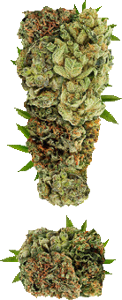 Did you like this?
Sign up today and be the first to receive updates and special offers from our breeders.
Subscribed successfully
Happy growing,
Bob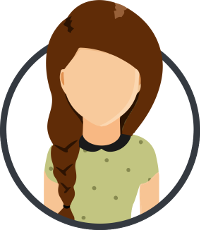 Article by:
Educated by one of the best breeders in the Netherlands, I chose to combine my passion for writing with the fascinating world of cannabis cultivation. What are the best strains for which occasion, what are the effects, and how to use responsibly? Let me take you on a journey.
Contributors: