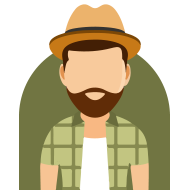 Experience since 2003
As an enthusiastic smoker and lover of marijuana, I've started to breed in 2003. Selecting the best phenotypes and the most beautiful strains gives me a lot of pleasure. As does the growing of the cuttings and creating the best seeds.
Breeder since 2006
I started to call myself a breeder around the year 2006. By then, I've made a lot of seeds for numerous Dutch seed banks, under the guidance of Creator. Years have flown by because you never have to work if you love what you are doing. Knowing that I've made a lot of people happy worldwide contributes to this.
The introduction of feminized seeds
In 2008 the market was flooded with a new hype: feminized seeds and strains. I have to admit: I didn't like it and was actually against them. Out of curiosity and lack of knowledge, I started digging for information. I spoke to many breeders who were creating feminized seeds about the pro's and cons and how they thought this phenomenon would develop in the future.
Specializing in feminized seeds
I decided to take the plunge in 2009 by breeding my first batch of feminized seeds. By growing and testing the seeds I found out they were as good as my regular seeds. Since then I started specializing in fem seeds fulltime.
In the years that followed I've made lots of seeds with there own characteristics. Today, my favourite activity is still to smoke a few joints and talk about my crossings.
Together with breeder Creator I've been breeding seeds for multiple seed banks in the Netherlands. To our big disappointed we saw our seeds being sold in big batches with lesser quality seeds from Spain. This didn't feel right!
Thanks to Henk, Creator and I were able to set up our own seed bank: Marijuana Seed Breeders. This way we can sell our own quality seeds straight to the user. I'm super happy with our webshop Marijuana Seed Breeders and am looking forward to breed lots of different strains to satisfy our customers.
Aftersales is important to us. Do you have any questions or can you use our professional advice? Don't hesitate to ask for help. We like to help our customers by getting the best results.
Enjoy your smoke!
Bob
Questions or suggestions?
Do you have questions or suggestions for Bob, ask them online!
All breeders