Breeder Henk

Love for marijuana since 1969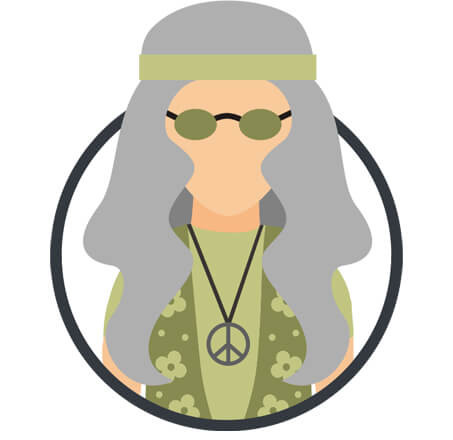 Name: Henk
Born: 1953
Speciality: Feminized seeds
Experience: over 40 years
Strains he's most proud of:
Love for marijuana since 1969!
It was the year 1969 when I used marijuana at - surprise, surprise - Woodstock for the first time. It was the beginning of a lifelong love and I couldn't wait to explore her further. We didn't have too much money growing up, so I decided to grow my own marijuana at my attic while living in Amsterdam East.
After several attempts I was super proud when my first successful harvest had a pretty great quality. The seeds I bought for little money and the yield was very profitable. In the meantime I got really devoted to breeding; my friend and I had a big stash of first-class weed. I wanted to be completely self-sufficient, so I decided to start breeding seeds.
Growing and improving the genetics of cannabis plants
Like I said before, in the early years of cannabis cultivation, I spent a lot of time and energy on growing and improving the genetics of cannabis plants. This way I created weed strains that still form the base for populair strains that are available worldwide, like AK47 autoflower feminized, White Widow autoflower feminized.
When the general public started using internet, it brought a lot of extra information and knowledge. If I wasn't growing, I sat behind my secondhand IBM desktop to gain more knowledge and trade experiences with other breeders.
Years later, when newsgroups were dubbed Grow Forums, I met a talented, young breeder with an unknown vision and talent. With the Creator, as he called himself, and his good breeder-friend Bob, I had nightlong convcersations about our common passion: breeding.
When we gained each others trust, they invited me to try their new product. I was very impressed by their fenomenal Haze, their knowledge and improved breeding tactics. Bob and Creator had a dream: to start their own seedbank online, where they would sell only marijana seeds with the highest quality.
We decided to join forces. With my 35+ years of experience we could develop even more weed strains. I started specializing in autoflowering seeds: a nice addition to our assortment.
Thanks to my nephew, who completed his study in Computer Science, we decided to take the plunge and open our own online seedshop. After years, our dream has finally come true.
We are very happy to present the results of our collaboration: MarijanaSeedBreeders.com. For this old hippie, it's a privilege to be part of this project. It's an honor to work with like-minded people and share our love of marijuana with the world.
Peace out!
Henk
Questions or suggestions?
Do you have questions or suggestions for Henk, ask them online!
Our breeders