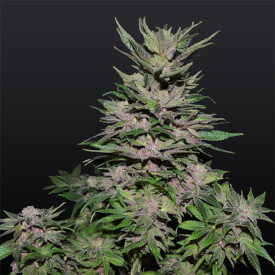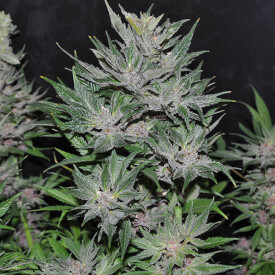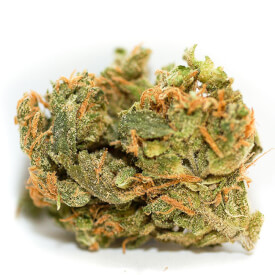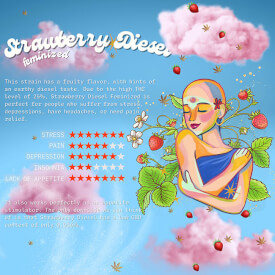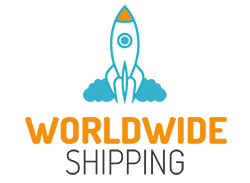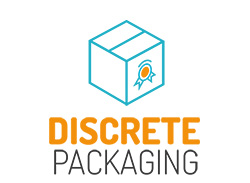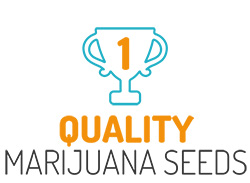 Strawberry Diesel Feminized
Are you looking for a strain that's easy to grow? The Strawberry Diesel hybrid is a crossing between NYC Diesel and our own Blue Dream strain. We decided not to cross this strain with Strawberry Cough, but to use Blue Dream instead. This strain grows fast, has a great fresh taste and will flower early. Together with NYC Diesel, it produces a strong plant that grows effortless. Perfect for beginners too!

Read Full Description
Strawberry Diesel Feminized
Are you looking for a strain that's easy to grow? The Strawberry Diesel hybrid is a crossing between NYC Diesel and our own Blue Dream strain. We decided not to cross this strain with Strawberry Cough, but to use Blue Dream instead. This strain grows fast, has a great fresh taste and will flower early. Together with NYC Diesel, it produces a strong plant that grows effortless. Perfect for beginners too!
Developing the Strawberry Diesel strain
The Strawberry Diesel strain was developed through lots of sampling and by growing the plants outdoors. We've had the help of a good friend, an outdoor grower with 15 years of experience. With his help, we were able to bring the Diesel selection mother from outdoors to indoors in 2012. Since the plants grow very well outdoors, with high yields and quick flowering time, we were eager to see what the results indoors would be. Needless to say, we were stunned!
The highlights of the Strawberry Diesel marijuana strain
When we saw the results of the plants we grew indoors for a couple of years, we decided to cross her with our Blue Dream selection. This resulted in a lot of testing, growing the Strawberry Diesel seeds indoors and outdoors and aim for the best results. After two years we found out the best qualities of our Strawberry Diesel feminized. She is highly resistant to budrot, has a high yield and a high THC level and ready to harvest in the first week of October. The flowering time is 9 to 10 weeks.
Growing Strawberry Diesel weed indoors and outdoors
You can grow the Strawberry Diesel strain indoors and outdoors. When grown outdoors, the Strawberry Diesel can grow up to 250 cm /98 inch, with a yield of 700 Gr. / 28 Oz. dry weight per square meter. The plants have a bushy look with long and compact buds in hues of green, pink and lilac. When grown indoors, Strawberry Diesel fem can reach a height 130 cm /51 inch in ten-liter pots, with a yield of 500 Gr. / 18 Oz. dry weight per m2 / 11ft2.
Taste and high Strawberry Diesel Feminized
This strain has a fruity flavor, with hints of an earthy diesel taste. Due to the high THC level of 25%, Strawberry Diesel Feminized is perfect for people who suffer from stress, depressions, have headaches or need pain relief. It also works perfectly as an appetite stimulator. The only downside we can think of is that Strawberry Diesel has a low CBD content of only 0,016%.
How can we help?
Do you have questions about our Strawberry Diesel seeds? We are here for you! We try to provide the best customer service possible. Just send us an email or give us a call. We can tell you more about this strain, fertilizers, the best growing conditions or just help you decide on which seeds to order. Order your Strawberry Diesel feminized seeds online at MSB, so you can be sure that you are getting the best seeds available. Our breeders share more than thirty years of experience. They will assure you that you will receive the highest quality Strawberry seeds. What are you waiting for? Order your seeds now!

Strain specifications
Strawberry Diesel
Feminized
Breeder
Creator
CBD Level
0%
THC Level
25%
Climate
Indoor / Outdoor
Yield indoor
500 Gr. / 18 Oz. dry weight per m²
Yield outdoor
700 Gr. / 25 Oz. dry weight per m²
Height indoor
Up to 120 cm / 47 inch
Height outdoor
Up to 210 cm / 83 inch
Flowering time
9 to 10 weeks
Indica / Sativa
35% Indica | 65% Sativa
Harvest Month
October
Grow difficulty
Easy / Moderate

Effects
Strawberry Diesel
Feminized
Stress
Pain
Depression
Insomnia
Lack of Appetite