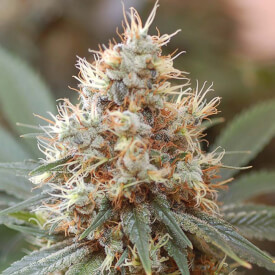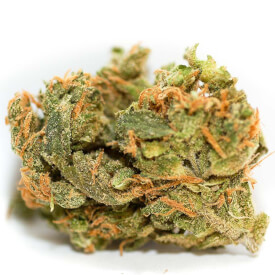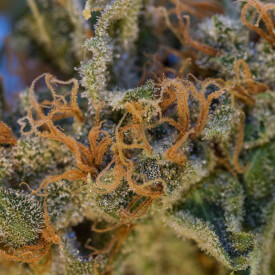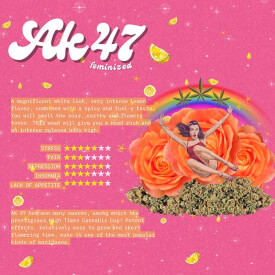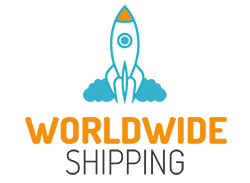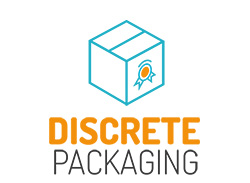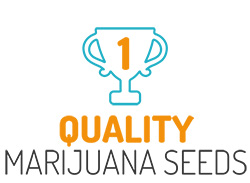 AK 47 Feminized
AK 47 has won many awards, among which the prestigious High Times Cannabis Cup! Potent effects, relatively easy to grow and short flowering time, make it one of the most popular kinds of marijuana. Therefore we knew it was important to start breeding our own AK 47 seeds. Marijuana Seed Breeders have been stabilizing AK since 2010. We will tell you more about that shortly. For now, it's important for you to know you can order the best cannabis seeds at Marijuana Seed Breeders.

Read Full Description
AK 47 Feminized
AK 47 has won many awards, among which the prestigious High Times Cannabis Cup! Potent effects, relatively easy to grow and short flowering time, make it one of the most popular kinds of marijuana. Therefore we knew it was important to start breeding our own AK 47 seeds. Marijuana Seed Breeders have been stabilizing AK since 2010. We will tell you more about that shortly. For now, it's important for you to know you can order the best cannabis seeds at Marijuana Seed Breeders.
The effects of AK47 weed
Are you looking to grow a strain that will help you sleep better? Or just put you in a relaxed body high? Look no further, you have found your perfect match. So get ready for some fun high times! The AK strain is a lot less violent than the name suggests. It will leave you feeling peaceful, uplifted and euphoric. It's a great choice when you are looking for a relaxing strain. It can even put you in a couch-lock or just leave you feeling very mellow.
Stabilizing our AK 47
As mentioned earlier, we started stabilizing the strain in 2010. We selected seeds from different breeders and, after tirelessly growing the strain, we came to the perfect F4 selection. This batch has everything we could ever hope for. The compactness, flowering time, size and odor are all the same.
Smell, taste and high
A magnificent white look, very intense lemon flavor, combined with a spicy and fuel-y taste. You will smell the sour, earthy and flowery tones. This weed will give you a head rush and an intense relaxed body high. It's a Sativa-dominant hybrid in which Colombian, Mexican, Thai and Afghani varieties are combined. It will stimulate your creativity, which makes it perfect for creative and social gatherings.
Buy feminized seeds at Marijuana Seed Breeders
You are looking for quality seeds, experience, and high-level customer service, right? Here at Marijuana Seed Breeders, we may just have started to make a name for ourselves but we do have over twenty years of experience. We are 3 seasoned Dutch breeders, who are passionate about breeding, crossing and growing cannabis seeds. With this high-level of expertise, we always have plenty of seeds and new strains.
Let us help you out
Are you wondering if you are experienced enough to grow feminized seeds? Or do you need some help to find out what's the best fertilizer? We are here to help and happy doing so. When you need information about our products or your order, just let us know. Please give us a call or send us an email and we will help you out quickly. Did you also know we have a weekly newsletter? It contains helpful information about growing, new products and we often have incredible special offers such as buy 10 seeds and get 10 seeds for free!
Are these feminized seeds easy to grow?
Yes, they are fairly easy to grow, we graded the difficulty level "moderate". Moderate implies that some basic growing skill is advised. The strain can be grown indoors and outdoors. It's definitely perfect to grow indoors in spaces with a low ceiling. The plants will develop a lot of branches and are very compact. She may look like a Sativa, but don't let that fool you. The flowering period will be around 8 to 9 weeks after which she will be ready to harvest.
How high can your marijuana plants grow?
Outdoors your feminized seeds can grow into plants up to 200 cm / 79 inch. This will give you a yield of 650 Gr. per m2 / 11ft2. As usual, the plants will grow a little less high when you grow them indoors. On average this strain will grow up to 110 cm / 43 inch high with an approximate yield of 450 Gr. / 16 Oz. per m2 / 11ft2.
Quick flowering marijuana for outdoor growing
The AK 47 strain is perfect for growing outdoors. The plants will flower quickly, somewhere around July. With the AK 47 strain flowering time of about eight weeks, she will be ready to harvest halfway September. You can soon enjoy your homegrown marijuana.
After rainy days...
...comes sunshine. But it can also cause bud rot (cannabis mold). If you grow your AK 47 feminized seeds outdoors and it rains for a couple of days, it's important to keep an eye on your buds. Cannabis mold can be prevented by shaking off excess rainwater or by putting the plants underneath a temporary roof.

Breeder
Creator
CBD Level
0%
THC Level
22%
Climate
Indoor / Outdoor
Yield indoor
450 Gr. / 16 Oz. dry weight per m²
Yield outdoor
600 Gr. / 21 Oz. dry weight per m²
Height indoor
Up to 110 cm / 43 inch
Height outdoor
Up to 200 cm / 79 inch
Flowering time
8 to 9 weeks
Indica / Sativa
45% Indica | 55% Sativa
Harvest Month
Half of September
Grow difficulty
Moderate

Stress
Pain
Depression
Insomnia
Lack of Appetite