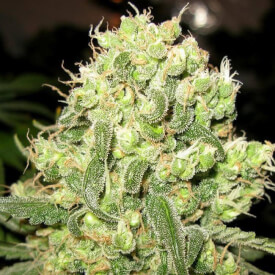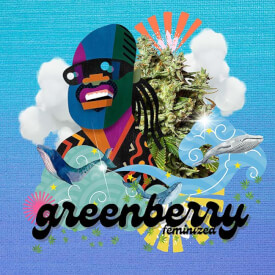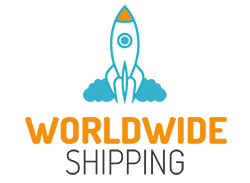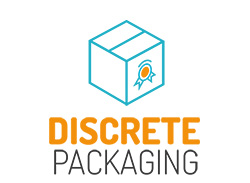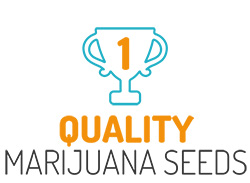 Greenberry Feminized
The Greenberry feminized originated from the stabilized Greenberry regular F5. We have been working on this strain for 6 years in order to create a stable as possible variety. She has been stabilized to have a minimum of phenotypes and to improve the / THC content / early flowering / height. As a result, all plants have the same harvest time as well as the highest possible yield and he made sure they are all green. The result is a strain that grows best in a COG arrangement and will not disappoint you when it comes to yield.

Read Full Description
Greenberry Feminized
The Greenberry feminized originated from the stabilized Greenberry regular F5. We have been working on this strain for 6 years in order to create a stable as possible variety. She has been stabilized to have a minimum of phenotypes and to improve the / THC content / early flowering / height. As a result, all plants have the same harvest time as well as the highest possible yield and he made sure they are all green. The result is a strain that grows best in a COG arrangement and will not disappoint you when it comes to yield.
The taste and scent of the Greenberry Feminized
The taste of the Greenberry can best be described as a sweet berry taste, this is due to the skunk 1 which gives this variety its own character. The scent is a sweet fruity berry with musk-like undertones and sparkling THC crystals all the way across the buds.
High-quality seeds from our breeders
When you work with multiple breeders, it is possible to have a wide variety of strains available. That's why at MarijuanaSeedBreeders.com we work with three different breeders. They all have a high level of expertise and combined over 20 years of experience. We promise that, if you make sure all the factors are right, every single Greenberry Feminized seed will grow into a plant. The seeds come straight from the breeder. This way we can ensure you will get the freshest seeds possible.
Greenberry Feminized effects and medicinal use
Greenberry is a great smoke for during the day that has a heavy stoned with a long-lasting effect. Your entire body will be at rest after smoking. It is esteemed for both its vigorous recreational effects as well as excellent medicinal properties and it has proven to be a good appetite stimulant, helps relieve various ailments, insomnia and headaches.
What do we have to offer?
MarijuanaSeedBreeders.com only offers high-quality Greenberry Feminized seeds. If you buy five seeds, you will get five plants. Of course, we trust you to create the best atmosphere for growing your Greenberry Feminized strain. We also sell high-quality fertilizer and other products which help you to grow your own Greenberry cannabis.
Characteristics of Greenberry feminized
Greenberry feminized is a bushy plant with a compact bud structure that will not grow too tall inside so that they can grow in any flowering space whether you have a full-blown greenhouse or just a stair cupboard at your disposal.
The Greenberry feminized grows about 120 cm /47 inch tall indoors and can, therefore, be grown in almost any grow room. Outdoor the Greenberry Feminized can achieve a height of 230 cm / 90 inch. She's easy to grow and flower, which makes it just as suitable for the novice grower as for the more experienced growers among us.
What makes her an extremely suitable outdoor plant is the fact that she will show flowering phenomena quite early in mid-July. She has a dense structure in both growth and flowering. And because she does not become too tall ideal to hide in a guerrilla growing area in the great outdoors.
The pre-growth of the Greenberry is 3 weeks on 18/6 after placing her in potting soil with mycorrhiza fungi in the permanent pot where she will remain to complete her full lifecycle, after 3 weeks flowering can be induced by switching to 12/12.
The sturdy buds have few leaves and are therefore easy to cut when they have finished flowering. After that, it's just a matter of properly drying the buds and you can experience the true power of the Greenberry feminized. Enjoy!

Breeder
Creator
CBD Level
0%
THC Level
21%
Climate
Indoor / Outdoor
Yield indoor
400 Gr. / 14 Oz. dry weight per m²
Yield outdoor
600 Gr. / 21 Oz. dry weight per m²
Height indoor
Up to 100 cm / 39 inch
Height outdoor
Up to 180 cm / 71 inch
Flowering time
8 to 9 weeks
Indica / Sativa
60% Indica | 40% Sativa
Harvest Month
September
Grow difficulty
Easy

Stress
Pain
Depression
Insomnia
Lack of Appetite