Growing in a greenhouse comes with numerous benefits, including the ability to work under a more controlled atmosphere than in the wide-open outdoors.
In this article, what is the best strain to grow in a greenhouse, we will teach you:
How to prepare your greenhouse
The necessities to obtain the best possible results
Important information on legalities before you start
4 top strains we reviewed to be highly suitable for this purpose
So without further ado, let's get started!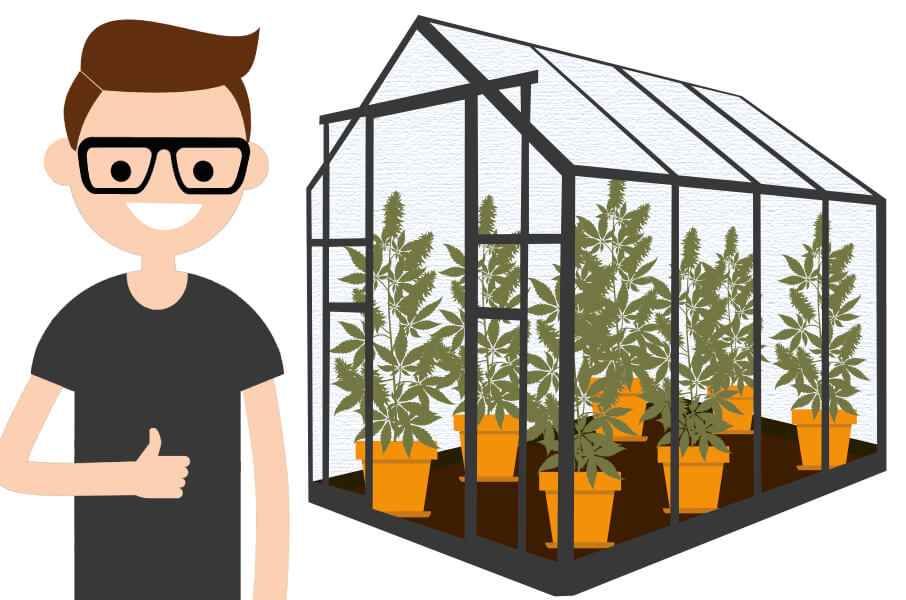 The Indoor-Outdoor Growing Debate
There's an ongoing debate in the cannabis world about whether it's best to grow indoors or outdoors.

Growing Cannabis Indoors
Control: Indoor growing provides the highest level of control — you can closely monitor factors such as lighting, heat, and CO2 and adjust them as you see fit. This, unfortunately, means that production costs are significant.
Pests: So is the chance of pests. The bug factor can be highly problematic and may require the use of insecticides, adding to the costs of indoor production.
Mold and mildew: Additionally, mold and mildew are more common than they are outside due to the need for tight water and ventilation measurements.

Growing Cannabis Outdoors
Sunlight: The main advantage of growing outdoors is access to sunlight, providing natural energy for growth (source).
Labor costs: Labor costs are lower as nature does the growing; there's less need for human intervention.
Pests in check: Another positive point is that most pest difficulties are usually kept in check naturally.
Difficult weather conditions: A primary downfall here is when you're trying to grow cannabis in less-than-ideal environments; long, harsh winters, for example. Outdoor growth may be hard to come by in such conditions.
Vulnerable to theft: You're also vulnerable to larger animals or even human thieves snatching your precious buds. This can be a travesty, not to mention the resources and time lost.

Greenhouse Growing as Middle Ground
As you can see, indoor and outdoor environments both have their pros and cons. Growing in a greenhouse may offer a balanced solution to this debate.
In such a scenario, you're taking the best elements of outdoor growing and pairing it with protection from the not-so-great ones.
Like growing outside, you have the wonderful advantage of sunlight. Factors such as temperature and humidity will play a role, of course, but you can monitor and control these, just like indoors.
For those that live in cold and unpredictable climates, greenhouses may be an even more attractive solution.
Are you looking for reliable results and to benefit from both indoor and outdoor conditions? You may find your sweet spot in a greenhouse.


Attributes of Our Best Greenhouse Strains
Our 4 best strains to grow in a greenhouse share some similar characteristics across the board. These include:

1. 8 to 10-Week Flowering Time
This is the time it takes for a plant to produce flowers or buds. While growers can manipulate this process, influencing the season in which they finish, most flower around September.
Our best strains to grow in a greenhouse flower between 8 and 10 weeks. After this period, the harvest is right around the corner, where you'll enjoy the fruits of your labor.

2. Yield of 400 to 600 Grams/m2
We've taken the average yield of our 4 best strains to provide you an approximation of what you'll receive once flowering is said and done.
Indoor strains tend to yield a smaller amount, while outdoors will provide larger plants in general. In greenhouses, you're most likely to see a range somewhere between 400 to 600 g/m2. The yield isn't minimal, but not the maximum either.

3. Hybrids Unite
All the strains on our list constitute hybrids. In most scenarios, we find that hybrids offer the best of both worlds.
This means you can receive the positive benefits that Sativa and Indica plants have to offer. Where the former is associated with uplifting, energizing effects, the latter tends to provide a more sedative, relaxing experience (source).
Our best strains for greenhouse growing are mixed — some are more Indica-dominant while others have a heavier Sativa percentage. This way, you get to choose according to your needs and desires.
4. Easy-To-Moderate Difficulty
When it comes to growing cannabis, we at Marijuana Seed Breeders classify our seeds into three levels of difficulty — easy, moderate, and hard.
Our 4 best strains for growing in a greenhouse all come up on the easy-to-moderate side of things. This indicates some are suitable for beginner growers while others may require a bit more background knowledge for successful growth.
Precautions for a Legal Grow
To set up a grow house that'll last, you want to ensure you're taking the appropriate legal measures. By doing this, you'll avoid problems down the road (like the po-po!). We can't responsibly advocate for growing otherwise.
Many US states are realizing the positive potential of legalizing cannabis use, from treating medical conditions to increased tax revenue for the economy. Some states have legalized cannabis for medical use only, including Oklahoma. Other states for medicinal and recreational, such as California.
Your location makes a difference as laws vary from state to state, and it's crucial you learn the stipulations accordingly.
This includes:
● How you grow, including the quantity.
● If you can sell the cannabis, and how this is possible.
Do your research and make sure you're covered.
One resource to check out is the Drug Policy Alliance. The organization campaigns for a change in the mindset and policies around drug use. It educates and also shares new bills and laws around the topic.
The Best Strains to Grow in a Greenhouse
As we've seen, growing in a greenhouse may offer you the best of both the indoor and outdoor worlds. Our favorite 4 picks for doing so are:
AK 47 Feminized review





---





---





The result of AK 47 is what places this strain at the top of our list. It's as balanced as one can get with 45 percent Indica and 55 percent Sativa. The name makes it sound much harsher than it actually is and the strain provides a gentle yet euphoric high.
It has a curious profile combination, thanks to four varieties from different places — Mexico, Thailand, Colombia, and Afghanistan.
There's a citrusy and somewhat diesel flavor while the smell is more floral and earthy. The buds look quite snowy and even somewhat mysterious.
Since it's a balanced hybrid, you receive both the head and body high here. It may lessen anxiety and stress, help nausea, insomnia, and more. A 22 percent THC level and 0 percent CBD lends itself to a potent high.
When it comes to growing AK 47, it comes in at a moderate level of difficulty. The plants themselves are quite compact and have a lot of branches. If you live in a humid climate or experience rainy weather regularly, watch out for mold, which can cause bud rot.
Well-balanced hybrid
---
Pretty buds
---
High THC level
Prone to rot with too much wetness
Cheese AutoFlower review





---





---





It's popular enough to be sold at coffee shops across Amsterdam and has even won awards at the High Times Cannabis Cup. On top of that, it's one of the easiest to grow, and all because it flowers automatically.
Autoflowering strains are especially suitable for inexperienced cultivators. You can harvest them twice a year, and they usually remain small but fat, so they are easy to conceal. Furthermore, they require far less maintenance than your regular or feminized seeds. And, on top of that, most auto-flowering varieties have surprisingly high resilience to mold, vermin, and other unpleasantries that may pose a threat to your growth.
All of this combined makes this strain a convenient, reliable option. It takes around nine weeks to flower, and you'll receive resilient, compact buds in return.
Yes, it does have a cheesy taste and odor, paired with flowers and a bit of that well-known skunk smell. It could turn some off, and others take to it kindly.
At 20 percent Indica and 60 percent Sativa, it's a mild body high and moderate head high — nothing that will blow you to shreds but gets the job done, nonetheless. The THC content comes in at 20 percent as well, promising a nice, psychoactive experience.
Pain perception and a lack of appetite may be remedied here as you enjoy a soothing, relaxing effect overall.
Autoflowering
---
Easy to grow
---
Award-winning plant
Critical Blue Feminized review





---





---





Are you looking for a decent amount of CBD that may not be found in our other species? Critical Blue may be your go-to with up to 3 percent CBD and 21 percent THC.
For those that want a daytime high and additional help for a medical condition, this aspect could be appealing. CBD can be useful for common conditions including seizures, pain, and insomnia.
Your stress and anxiety levels may subside with this strain as well. Do you struggle with depression? Critical Blue might be worth trying for you too.
That's not all this strain has to offer, though. It's also another well-balanced option at 40 percent Indica and 60 percent Sativa — it might induce the munchies and is good for enjoying with friends.
It gives off a fruity, welcoming taste and, much like the name suggests, the bud is a beautiful purple-blue hue.
The plant grows to a medium height making it a practical variety for blending in. Critical Blue also loves sunlight, so the warmer and happier the climate, the better. Given it's an easy-to-grow strain, if your environment is below par, some extra attention might suffice.
High CBD content
---
Friendly high
---
Nice fruity taste
Northern Lights Feminized review





---





---





Offering one of the highest yields on our list at approximately 500-700 g/m2, Northern Lights is moderately difficult to grow and flowers in around two to two-and-a-half months. By September or October, you'll be ready for harvest.
It's a well-known strain that was originally introduced in California and later made its grand appearance in the Netherlands.
Some say the buds look similar to the Aurora Borealis, hence the name. They're quite pretty and crystal-covered with a high amount of resin on them. This is a sort of coating that protects the plant from harsh conditions, insects, fungi, and more.
When it comes to your buzz, the THC is high at 22 percent while the CBD content is unknown. This latter bit isn't such a downer given the Indica content is at 75 percent, which lends this strain to a strong body high.
Not to say the THC mentioned above won't positively affect the noggin. Northern Lights might help ease pain, depression, and insomnia. Muscle spasms may take a dip as well.
Overall, you should feel a smidge more relaxed unless you toke it hard and, in that case, you may want to save it for the evening time. Otherwise, you could be begging for help getting off the couch.
If you appreciate an earthy, sweet flavor and odor, this will pleasantly surprise you.
High THC
---
Resinous and beautiful buds
---
A strong Indica
Turn Your Greenhouse Green Already
The best strains to grow in a greenhouse include a variety of hybrids that we hope will tickle your fancy. Whether you need a Sativa-dominant species or are more concerned about ease of growth, there's something for you here.
Overall, we appreciate the AK 47 for how balanced it is (45 indica, 55 Sativa). Both head and body high are nearly equal here with enough THC (22 percent) to leave you feeling carefree and happy.
However, if you're a first-time grower, we'd be ashamed not to refer you to Cheese. Its autoflowering abilities enable you to give it a go without being too overwhelmed.
What are you waiting for? Your greenhouse is ready for some attention.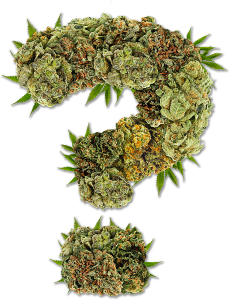 PICK THE RIGHT STRAIN
We hope this guide helped you pick the right strain for your next growth.
Did you know that you can use Marijuana for many purposes?
We wrote a guide in which you will learn everything you need to know to help you pick your best weed strain(s).
The difference between Indica, Sativa, Ruderalis & Hybrids
What is THC, CDB? What are Terpenes?
Picking the right strain for the right purpose
Lots More!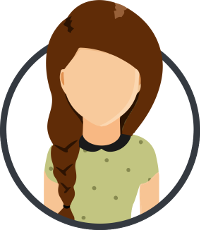 Article by:
Educated by one of the best breeders in the Netherlands, I chose to combine my passion for writing with the fascinating world of cannabis cultivation. What are the best strains for which occasion, what are the effects, and how to use responsibly? Let me take you on a journey.
Contributors: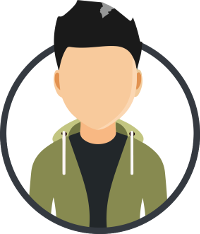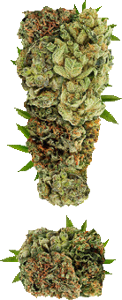 Did you like this?
Sign up today and be the first to receive updates and special offers from our breeders.
Subscribed successfully
Happy growing,
Bob