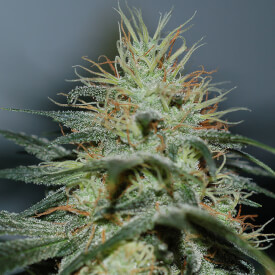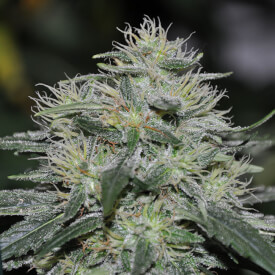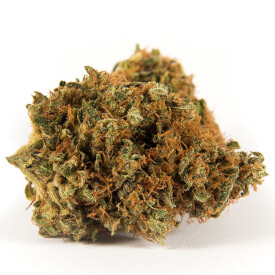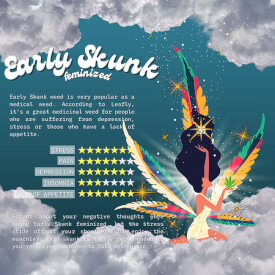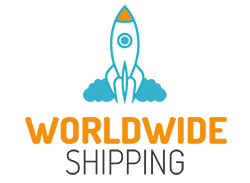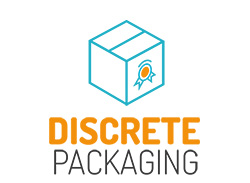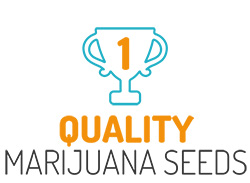 Early Skunk Feminized
We initially wanted to keep her for ourselves, because she's so special. However, we decided to share our Early Skunk feminized with the world. We have been growing this strain for years now and she's ready to step into the spotlights. Do you want to read more about our Early Skunk or do you already want to buy these seeds?

Read Full Description
Early Skunk Feminized
We initially wanted to keep her for ourselves, because she's so special. However, we decided to share our Early Skunk feminized with the world. We have been growing this strain for years now and she's ready to step into the spotlights. Do you want to read more about our Early Skunk or do you already want to buy these seeds?
Early Skunk strain
Our Early Skunk strain is a crossing between two special plants. The first plant we used is the Early Skunk female F3 stabilised selection plant. We crossed it with the original F1 Skunk-Afghan from Positronics; the first grow shop in Amsterdam. This female outdoor Skunk-Afghan has been a part of our seed bank since the 90's and has proven herself over and over again.
About Marijuana Seed Breeders
Do you want to know who you're buying your weed seeds from? We can imagine! Nice to meet you, we are Marijuana Seed Breeders. We are a Dutch seed bank, based in Amsterdam. We have years of experience with growing and selling seeds. For the best seeds, we work with three different breeders from the Netherlands. Together they have over 20 years of experience.
Our breeders
As said before, we work with multiple breeders. They all have their own expertise and skills. We can offer you a wide variety of marijuana seeds and keep on adding new strains in our shop. The seeds you order come straight from our breeders to ensure you get the freshest seeds available. If you make sure the important factors like (sun)light, temperature, fertilizers, water, and soil are in order, every Early Skunk seed will grow into a strong, healthy plant.
Contents of Early Skunk feminized
Early Skunk weed is very suitable to make CBD oil with. It has a high THC content of 22%. You can use the oil to rub over sour spots on your body. Most people, however, take one or two drops underneath their tongue to relieve pain. This way it gets into your system quickly. Of course, the Early Skunk strain is very suitable to smoke too. This strain has a CBD content up to 2,5%.
The effects of Early Skunk weed
Please beware, before you order Early Skunk seeds: this is no weed for beginners. It's quite a heavy strain with heavy effects. Early Skunk feminized will give you a lovely happy, relaxed body high. You will be stoned for a long time and it will put you in a couch-lock. You will be amazed by her strength. Don't say we did not warn you!
Growing Early Skunk seeds inside and out
You can grow your Early Skunk seeds inside and outside. It's easy to grow and to maintain, especially outside or in a SCROG. The flowering time of an Early Skunk seed is eight to nine weeks. You will be able to harvest your Early Skunk somewhere half or and the end of September.
Yield of Early Skunk seeds
With a flowering time of only eight to nine weeks and a high yield, this is a popular strain. Grow it outside, then your yield will be 650 Gr. / 23 Oz. dry weight per m2 / 11ft2. Inside the yield will be about 400 Gr. / 14 Oz. dry weight per m2 / 11ft2. Enjoy the flowery, skunky and earthy taste while smoking.
How can we help?
High-quality seeds and equal high-quality customer service. At Marijuana Seed Breeders we offer the best products, ranging from seeds, fertilizer and other marijuana-related stuff to customer service. With everything we sell, you might expect the highest quality. Are you not satisfied? Please let us know we will sort it out so you're left feeling understood and heard.
Buy Early Skunk at MarijuanaSeedBreeders.com
Wherever you call home, we ship there. We ship our marijuana seeds worldwide. If you're looking for a weed with a longlasting stoned, a high yield and which can be grown indoors and outdoors, Early Skunk weed is the one for you. With our high-quality seeds, every seed will turn into a plant.

Breeder
Bob
CBD Level
Up to 2.5%
THC Level
22%
Climate
Indoor / Outdoor
Yield indoor
400 Gr. / 14 Oz. dry weight per m²
Yield outdoor
650 Gr. / 23 Oz. dry weight per m²
Height indoor
Up to 140 cm / 55 inch
Height outdoor
Up to 250 cm / 98 inch
Flowering time
7 to 9 weeks
Indica / Sativa
15% Indica | 85% Sativa
Harvest Month
September / October
Grow difficulty
Easy / Moderate

Stress
Pain
Depression
Insomnia
Lack of Appetite