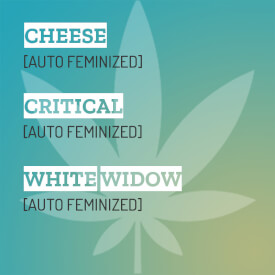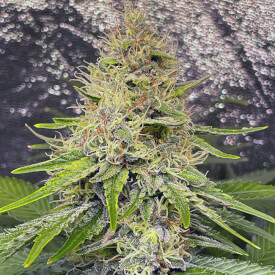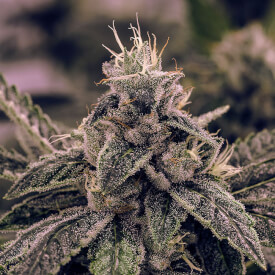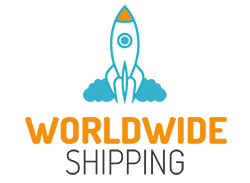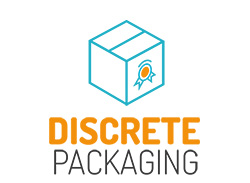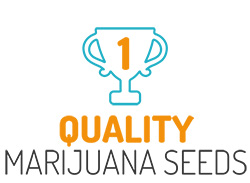 Autoflower Mixpack Auto Feminized
Are you aspiring to achieve multiple harvests per year? With autoflowering strains that dream can now become a reality. Autoflowering strains, unlike their photoperiod cousins, will start to flower when they reach a certain level of maturity, rather than depending on any lighting schedule.

Read Full Description
Autoflower Mixpack Auto Feminized
Are you aspiring to achieve multiple harvests per year? With autoflowering strains that dream can now become a reality. Autoflowering strains, unlike their photoperiod cousins, will start to flower when they reach a certain level of maturity, rather than depending on any lighting schedule.
Because of their rapid growth cycle the plants stay relatively small and will still produce a very reasonable yield. The best part? Once you've harvested the first batch you will have plenty of time left to plant a second batch outdoors before the season is over. Indoors the number of times you can start a new growth is virtually unlimited.
Their humble size also makes them extremely suitable for those with limited growing space. Autoflowering strains on average take between 60-70 days to grow from start to harvest.
Our inhouse expert on autoflowering strains is Henk, who has made this his field of expertise since the 1970's. Henk has created the autoflowering feminized mixpack with three of the MSB Breeders' favorite creations for you to get acquainted with the miracle of autoflowering strains.
The content of the mixpack
Critical auto Feminized
Once we found the perfect mother plant that met our requirements in the field of growth, height, yield, odor, flowering time and sensitivity to stress, we decided to do a few crosses and take it to the next level. Boom! Critical auto fem was born.
Crossing our premium Critical with ruderalis resulted in an easy to grow and easy to maintain autoflowering plant with THC levels up to 21%, which will thrive both indoors and outdoors.
Not a fan of pharmaceutical painkillers and their scary side effects? Critical weed is known for its' pain-relieving properties. It will relax your muscles and offers relief for many different ailments.
The fresh, citrus taste with lemon and lime on top of the truly relaxing body high effects, make this strain a must try for every cannaisseur.
Cheese auto Feminized
Henk's goal with the cheese auto fem was to keep as much as the original Cheese characteristics as possible. And boy did he succeed!
The autoflowering Cheese combines the signature old Cheese and flower aromas with the added benefits of a rapid flowering cycle.
The Christmas-tree shape reveals its clear Indica influences while the euphoric, almost giggly high effects, followed by deep relaxation, scream "Sativa". The best of both worlds!
This compact heavy yielder with her big, luscious buds will be ready to harvest in only 70/80 days, from germination to harvest!
White Widow auto Feminized
This potent strain is world-renowned for its' strong, uplifting high that, despite her strong Indica characteristics, will not leave you vegetating on the couch.
Growing White Widow Auto Fem is a breeze since this strain is highly forgiving and mold resistant, making it an ideal strain for everyone no matter their level of expertise.
Enjoy the all the goodness of the distinct pinecone scents with hints of citrus in less than 75% of the time it takes you to grow the regular variant.
Easy does it
While autoflowering seeds overall are very simple to grow, what's wrong with making life even easier? Spongepot is the all in one, failure-proof germination kit. Spongepot consists of an all-organic soil mixture of peat and Cocos and is supplied with a concentrated mix of soil enhancer which contains important fungi and various beneficial soil bacteria. Simply place your autoflowering seeds in the ready-made holes and water with the soil enhancer solution. Germinating your seeds has never been easier! Get your Spongepot here.
High-quality autoflowering seeds
We at MSB have made it our mission to make our customers happy. That's why we only sell high-quality marijuana seeds. All the seeds in our shop are personally cultivated by our highly skilled breeders in the Netherlands. Still, it's possible that a customer is not completely satisfied. That's why we offer great customer service too. At Marijuana Seed Breeders, the customer is king. Order your Autoflowering Mixpack now!

Strain specifications
Autoflower Mixpack
Auto Feminized
Breeder
Various
CBD Level
Miscellaneous
THC Level
20 to 21%
Climate
Indoor / outdoor
Yield indoor
450 Gr. / 16 Oz. dry weight per m²
Yield outdoor
650 Gr. / 23 Oz. dry weight per m²
Height indoor
Up to 90 cm / 35 inch
Height outdoor
Up to 190 cm / 75 inch
Flowering time
8 to 9 weeks
Indica / Sativa
Miscellaneous
Harvest Month
Outdoor two times a year
Grow difficulty
Easy / Moderate