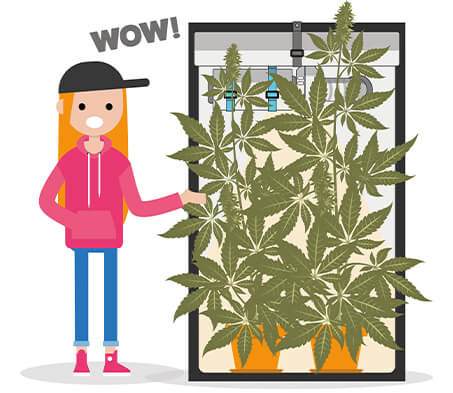 Selecting the best indoor strain for yield and potency comes down to 2 main factors.
These are quality (potency) and quantity (yield).
The vast variety of great strains available today makes it really tough to choose.
So I'm going to share my first-hand experience, as well as some tips and tricks, in order to help you decide on the best indoor strain that excels in both yield and potency.
Quick Overview:
quick overview
Blue Dream

Feminized


Great cerebral high
Amazing scent and taste

Requires advances skills
A little more expensive

WINNER!

Our Rating:

Buy Blue Dream Go to Review

Green Revolution

Feminized


Ideal for managing stress and anxiety
Nicely balanced

Our Rating:

Buy Green Revolution Go to Review

Amnesia Haze

Feminized


Great for insomnia
Exquisite taste

Can cause dizziness
Beware of the munchies

Our Rating:

Buy Amnesia Haze Go to Review

Power Plant

Feminized


Suitable for beginners
Not too overpowering

Quite pungent
Makes you very thirsty

Our Rating:

Buy Power Plant Go to Review

Chronic

Feminized


One of the most affordable strains in this list
Quick and simple to grow

Cotton mouth
Can cause mild paranoia

Our Rating:

Buy Chronic Go to Review
How to Choose Indoor Strains to Best Suit Your Exact Needs?
Quantity, quality, taste, ease of growing, and flowering cycle. Those are my 5 major requirements.
I like quality strains that taste divine, offer a nice yield, and don't take too long.
My mission is also to find a strain that could help me manage psychological issues such as stress, anxiety, and mild depression that I sometimes experience. At the same time, my wife asked me to find her something that can help relieve the chronic pain in her back and legs.
And, in my experience, you're more likely to get what you really want when you choose the most suitable strain for your growing area and preferences.
But remember, no two strains are created equal. Each of them thrives in their own ideal conditions.
Make sure you are able to give your chosen strains the right growing area, lighting, temperature, nutrients, and so on. That's because a mismatch might slightly alter the taste, high, ease of growing, yield, and flowering cycle.
You might also want to check these rather technical, energy-efficient indoor growing procedures from UC Davis.
This research and engineering development project were performed by this American university's Western Cooling Efficiency Center. They gave me a few ideas for improving my setup — Good vibes!
And I also reviewed 5 of my favorite strains below. That's my attempt at trying to possibly help you make a more informed decision. But first, a quick primer:
How to Spot Strains with the Highest Yield?
A knee-jerk response is to choose strains that grow into really big plants when you're looking for the best yield possible.
I made the same decision back then. But I soon realized that your choice should often depend on your preferences.
After all, what I consider as an ideal outcome is to end up with lots of weed that taste really good and can give me the high that I want.
So now here are some of my take-aways, in terms of my personal requirements regarding quality and quantity:
Quick Overview — Fresh Roundup of 5 Delectable Strains
First, Blue Dream (feminized) is a strain that often produces around 600 Gr. / 21 Oz. per square meter.
This primarily depends on the lighting and nutrients that it gets throughout its 8 to 10-week flowering cycle.
Putting more plants per 1 m2. / 11 ft2 requires a shorter vegetative state, resulting in a bit smaller plants but will still give the same yield as 1 large plant in the same space.
Now 1 m2 / 11 ft2 can usually accommodate 5 to 9 plants. I decided to go with 9 since I was really excited to try this strain and wanted to experience its' sweet buds as soon as possible.
The only difference is that fewer plants must remain in the vegetative state a bit longer which allows them to grow to a decent size before inducing flowering.
One of the benefits for home growers is that growing fewer plants requires less of an investment (fewer seeds needed). The downside is that due to the longer vegetative state you need a little more patience.
The video below explains this perfectly.
Intermediate growing experience is recommended for this Sativa-dominant strain, including gardening skills like staking and plant positioning.
Blue Dream nicely satisfies my preferences when it comes to taste, high, yield, and flowering cycle.
Second, the Green Revolution (feminized) is another Sativa-dominant hybrid that can grow really tall indoors (a little above 150 cm / 5 ft.). flowering time can take from 9 to 11 weeks.
Dry weight harvest is usually around 500 Gr. / 19 Oz. per m2 / 11 ft2 . For this round, I put in 6 plants per m2 / 11 ft2.
This strain usually produces buds with around 23% THC.
It's among my first ones when I started growing my own stash, and I found it quite more straightforward to grow than Blue Dream.
I find this a suitable option for inducing my appetite and for relaxation. As for its taste, I prefer the Blue Dream. Though some of my friends enjoy this weed's combination of citrus and mild garlic aftertaste.
Third, Amnesia Haze (feminized) is another widely used Sativa-dominant hybrid strain. It can grow slightly below 100 cm / 3 ft. indoors. I got around 400 Gr. / 16 Oz. per m2 / 11 ft2. from this strain.
I found its sweet lemon taste quite good for my palate. Didn't quite like its mild paranoia effects though, which kicked in after I used this regularly for a month. But it did help me sleep during that time.
Fourth, Power Plant (feminized) is still another Sativa-dominant that's included in this roundup. It produced around 400 Gr. / 16 Oz. per m2 / 11 ft2. Each of the 8 plants I planted grew a little over 100 cm / 3 ft. tall.
I particularly like its sandalwood smell and spicy punch taste.
My wife found this strain favorable to manage pain. I personally found that it really relieved my anxiety and mild depression.
Fifth, Chronic (feminized) can yield up to 400 Gr. / 16 Oz. for each m2 / 11 ft2. This is a Sativa-dominant strain that can grow up to a little over 100 cm / 3 ft. tall indoors.
I grew 8 plants per square meter to get an average of 400 Gr. / 16 Oz. after 7 weeks of flowering.
Its pungent odor and sometimes harsh, cough-inducing smoke, well at least for me, is balanced by its honey-sweet taste with that pine-fresh aftertaste that I've grown quite fond of since the mid-90s.
The mind high usually kicks in for me right after that first few puffs. Body high then often comes right after I experience euphoric headspace focus and creative thoughts well within an hour or two.
Now that we've got the basics covered, I am well aware that you probably like a little more detailed information on these 5 strains to help you make a more informed decision So here we go!
Blue Dream Feminized review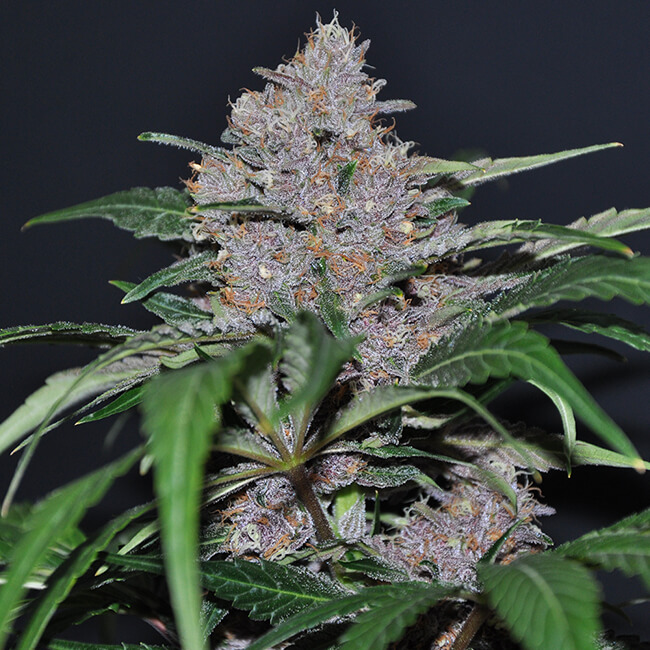 ---





---





This weed's cerebral stoniness is quite uplifting but never overpowering for me, enough to help me relax my mind and focus on my creative, manageable thoughts. I also don't get too tired when I use this, most likely because its hybrid Sativa-Indica balance is just right for my preferred body high. This greatly helps me relax when work has me feeling overwhelmed or stressed. It also seems to help nicely in relieving my wife's back pains.
I really like Blue Dream's taste and aroma. It's sweet. It smells like blueberries. It's got that cool herbal aftertaste. Smoke's really smooth and fresh, especially when I use a bong.
Growing this strain wasn't as easy and straightforward for me as the others in this roundup, especially at that time when I didn't have enough experience and gardening knowledge. Though I knew this before I got my first batch of seeds. So what I did was to read up and prepare before ordering these.
And I soon found out that yield was as rewarding as the highest producing strains in this roundup. That's mainly because I got around 550 Gr. / 19 Oz. of weed from my Blue Dream plant, which gave me a Sativa-induced cerebral high, an Indica-dominant relaxing effect, a cool taste, and a garden-fresh aroma.
Sweet blueberry flavor with an herbal aftertaste
---
Cerebral high wasn't too overpowering
---
Body high hits just the right buttons for me
Needed to improve my skills
---
A little more expensive than others in this roundup
---
Dry eyes and cotton mouth
Green Revolution Feminized review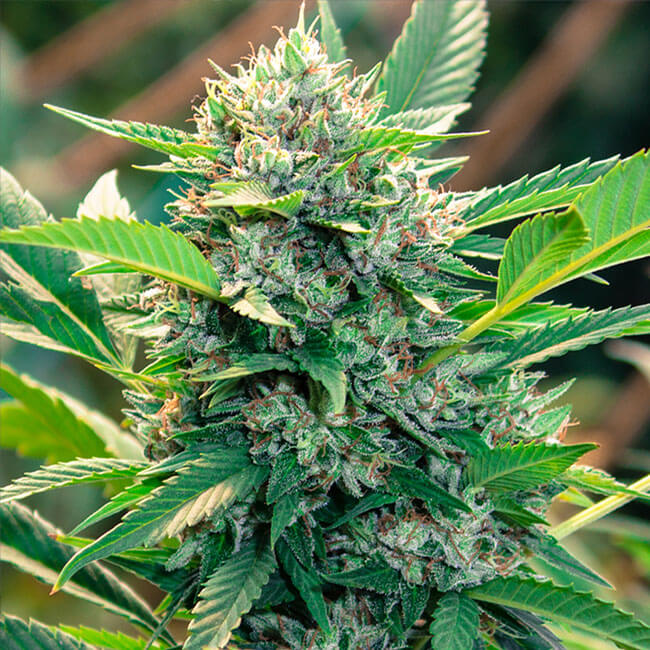 ---





---





This was actually one of the first strains I tried when I first started growing. I was able to grow this strain indoors as a beginner and couldn't wait to get re-acquainted now that I have advanced skills. I find Green Revolution (feminized) simpler and more straightforward to grow than others in this roundup. I think that's probably because this plant is resistant to stress, certain pests, and mold, making it more convenient to manage indoors. Yeah, even if some of my plants grew up to almost 150 cm / 5 ft. tall!
Mind high is similar to what I experience with other Sativa-dominant variants in this roundup. This weed really helps me manage stress and anxiety. Cerebral invigoration hits me almost immediately after my first puffs.
Meanwhile, body high is relaxing enough to keep my wife's back pains under control, and it really helps when you are having trouble sleeping. I think this is probably due to its 20-80 Indica and Sativa combination. Though what I've experienced is that it isn't so powerful that it knocks you out instantly, but rather makes you blissfully relaxed. Green Revolution also helped regain my appetite after a few consecutive days of stressful activities.
It's this weed's taste that just doesn't cut it for me, especially considering that this roundup offers choices that I like much better. It's a combination of citrus-lemon with a mild garlic aftertaste. Don't worry though, since it's unlikely for your breath to smell of garlic after toking. Unless of course it already does!
Ideal for managing stress and anxiety
---
Nicely balanced
---
Helps with insomnia
May experience mild paranoia
---
Cotton mouth
---
Peculiar taste
Amnesia Haze Feminized review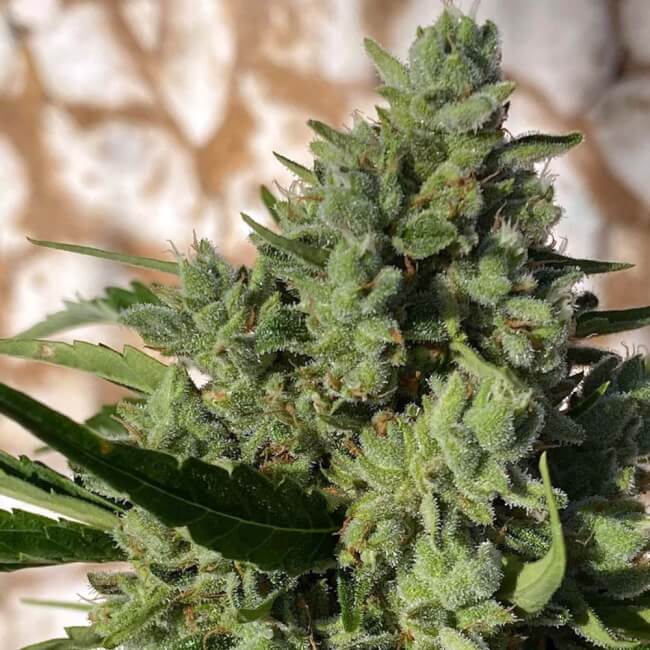 ---





---





This weed had a quite powerful body high when I first smoked it. I almost instantaneously felt its soothing, relaxing effects. It worked really well in helping me sleep and, according to my wife, this is one of the best strains she has tried for relieving her back pains. It's like a milder, organic skeletal and muscular relaxant.
I call Amnesia Haze a creeper when it comes to mind high. Euphoric headspace gradually made its way after half an hour or so of taking a body high hit. Though this was quite weaker and more manageable than what I often experience when using the others in this roundup.
But I also found this a bit difficult to grow at that time. My intuition says it has something to do with its limited resistance against certain organisms aside from mold. It would've been really helpful if I knew this before I bought my first batch of seeds. I mean, I could've prepared much better and tried to learn more about indoor growing. Though don't worry. I bet you're likely to quickly and easily get the hang of it.
However, the yield was quite good if you ask me. I got around 450 Gr. / 16 Oz. from my 9 plants per m2 / 11 ft2.
Exquisite taste
---
Subtle mind high sparks creativity
---
Great for managing pain
May cause dizziness
---
Cotton mouth
Power Plant Feminized review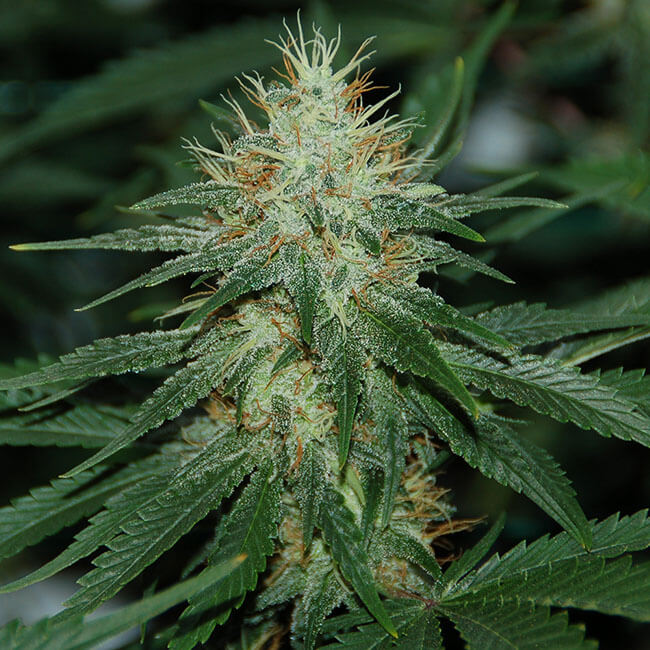 ---





---





I find this weed quite similar to other Sativa-dominant strains in this roundup when it comes to the cerebral invigoration that I get from this strain. It helps me relax but isn't too overpowering, which enables me to still focus on almost anything that I'm currently doing. But it's a little more potent in this regard than a couple of others on this list. I think that is the reason why this weed helps me manage mild anxiety and bouts of moderate depression that I sometimes experience.
Meanwhile, its Indica-induced relaxing effects helped my wife manage the chronic pain she has in her back and legs. However, this isn't too powerful, which is probably why we didn't feel weary after we shared a well-earned post-dinner blunt. Though I did experience a rather dry mouth which made me feel quite thirsty most of the time, far more than what I encounter when I use the other strains in this list.
I think that's probably due to its spicy, almost peppery taste and sandalwood aroma. Though I still like this much better than the garlic aftertaste of other Sativa-Indica hybrids.
I think Power Plant is suitable for beginners, as I managed to grow it without serious problems back when I still had nowhere near intermediate indoor growing and gardening experience. Yield is also reasonable if you ask me, at 450 Gr. / 16 Oz. per M2 / 11ft 2 with 8 plants.
Easy to grow
---
Relatively fast flowering cycle
---
Manages pain
Very pungent
---
Makes you very thirsty
Chronic Feminized review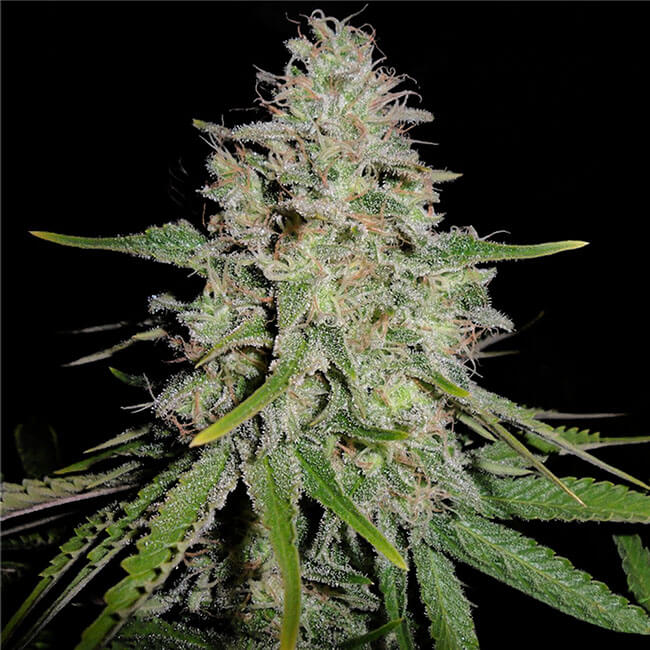 ---





---





This weed is probably the most widely used strain in this roundup. And I just don't mean across the EU and North America. I think it's so popular its name is still synonymous to weed up to this day. Though this is also likely due in part to how celebrities and artists continue to popularize this term when they refer to marijuana, i.e. Dr. Dre's album in the 90s.
Now I get hurled back to the nostalgic 90s when I use Chronic, which was about the time I first tasted this stuff. It still has this minty, herbal fresh taste at least for my palate. Though I still think its smoke is still as cough-inducing as the time I first tasted this, especially when I get a lot for just one toke!
Cerebral invigoration that isn't too weak or too powerful starts for me barely a few minutes after taking my first puffs. This is when I start to feel its relaxing and soothing effects, which help me manage my stress levels and mild anxiety. I do manage to come up with creative insights and ideas, though my focus isn't as sharp as what I experience with other Sativa-dominant strains in this list. So no, I barely managed to get any work done after smoking this one.
I think that's probably because of its 70-30 Indica-Sativa combination. This weed's body high is a little more potent than the other strains in this roundup. Though this greatly helped my wife with her back and leg pains. I personally, however, tend to feel really sleepy, especially when it starts to wear off and at times when I'm physically tired before I smoke. A trick that I found to be quite effective for me is to eat a full meal and drink lots of water before using this, as this sort of keeps the weariness that I feel at bay quite longer.
I've read that Chronic is now being tested for its medicinal benefits for treating Alzheimer's, high blood pressure, Parkinson's, weakened immune system, diabetes, and certain mental illnesses. I think this is really cool, especially considering that this strain is among the most affordable ones in this roundup and is also one of the fastest and most convenient strains to grow indoors, even for beginners.
Affordable
---
Quick and simple to grow
---
Multiple medical benefits
Dry eyes
---
Can cause mild anxiety when overdone
Final Thoughts About the Best Indoor Strain for Yield & Potency
I recommend looking closer at what Blue Dream has to offer if what you really want is a flavorful taste and a sweet-smelling aroma that go hand in hand with an uplifting mind high and pleasantly relaxing effects on the body. I mean, this strain is probably among the most popular ones today because of these reasons. It also produces significant yield when grown indoors and also follows a reasonable flowering cycle. But keep in mind that this is more expensive than a few others in this roundup.
Chronic is also a good choice if you ask me. I might be biased in terms of taste as I really like its cool, minty aftertaste, and also in terms of its body high effects. That's because this weed nicely helps me manage my leg and back pains. Plus, it's among the most affordable seeds in this list. And it's also one of the quickest and simplest strains to grow indoors when you compare it to the others in this roundup.
Amnesia, Green Revolution and Power Plant can also be good options, depending on your needs in terms of yield, potency, taste, flowering cycle and ease of growing. So I hope my long-winded narrative can help you make a more informed decision. Cheers!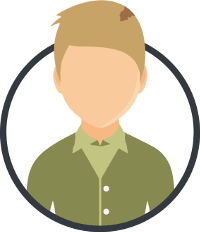 Article by:
The effectiveness of THC Oil reintroduced me to the world marijuana. It's amazing how this plant allows you to take the matters into your own hands. Growing this powerful plant at home truly gives me a self-supporting feeling. I even developed a green thumb.
Contributors: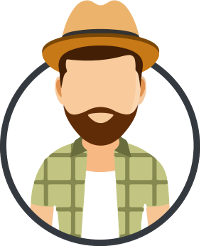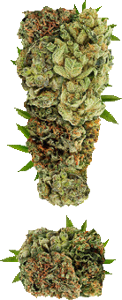 Did you like this?
Sign up today and be the first to receive updates and special offers from our breeders.
Subscribed successfully
Happy growing,
Bob