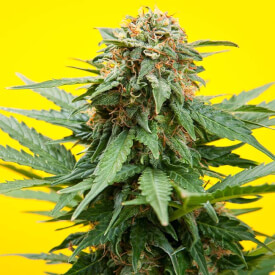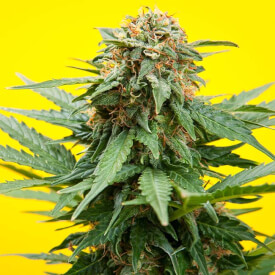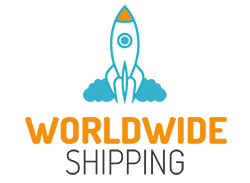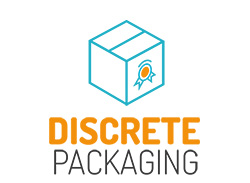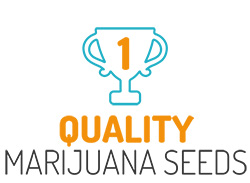 Yellowstone Feminized
Let us introduce you to Yellowstone - a low-maintenance strain with a high THC content that gives a happy and long-lasting high.

Read Full Description
Yellowstone Feminized
Let us introduce you to Yellowstone - a low-maintenance strain with a high THC content that gives a happy and long-lasting high.
This Sativa-dominant hybrid is a cross between The Dark Side and the famous Cheese. It gives you a joyful and anxiety-free high in the mind and a relaxing sensation in the body. Perfect for a chilled evening in or a low-key hang out with some close friends.
Easy to grow and even easier to love, Yellowstone will be your go-to weed whenever you want to switch off, relax, and become one with your couch.
One thing is for sure. Plants grown from Yellowstone Feminized Seeds produce beautiful buds with up to a whopping 20% THC content. This means your buds won't just look beautiful, but will pack quite the punch too.
Yellowstone, a strain by The Kush Brothers
Yellowstone strain is a creation of The Kush Brothers - a group of outstanding growers based in sunny Barcelona, Spain.
Known for their dedication to high-quality and organic products, The Kush Brothers provide award-winning seeds that you must try.
Handled with the utmost care and packed by hand, the quality of Yellowstone feminized seeds never disappoints.
Yellowstone is a part of the famous DarkSide collection, a real treat for any weed connoisseurs.
To create the collection, the Kush Brothers decided to cross The Dark Side with some beloved classics
Yellowstone is one of the more popular strains in the collection. This is probably due to the Cheese genetics that gives the strain a strong, pungent, and slightly sweet flavor. While the smell can fill up any room quickly, it is not aggressive. Thanks to The Dark Side genetics, it carries a hint of citrus and ripe pear, making the smell less intense than the taste.
The strong flavor matches the strong effects. Even though it is a Sativa-dominant strain, the THC level (18% to 20%) makes it more of a movie-time than a party-time strain.
Regular users praise the Yellowstone strain for its soothing and relaxing effects and often label it a "perfect bedtime smoke."
Contrary to Cheese, Yellowstone will not hit you right away. It is a slow-creeper that will first relax your mind before it relaxes your body. When you try this strain for the first time, you will notice your brain switching off. Soon after, the feeling of bliss will spread from your head to your toes, putting your whole body in a relaxed state. The anxious thoughts and everyday worries will evaporate, allowing for a smooth transition from a hectic day to a peaceful and tranquil night with sweet dreams.
Side effects such as dry eyes and dry mouth are not uncommon, so make sure to have plenty of water by your side. Many users have also reported that the Yellowstone strain is a bit of an appetite stimulator. For that reason, having a few snacks waiting for you in the kitchen might be a good idea as the munchies might attack at any moment.
Growing Yellowstone Feminized Seeds
Yellowstone Feminized seeds produce strong yields.
The plants are easy to grow and reward you with a good amount of dense buds with a high THC content.
No matter if you decide to grow indoors or outdoors, the results will be worth your while. You can expect a yield of 550 gr (19 OZ.) for indoor grows and 800 gr (28 OZ.) for outdoors, even as a novice grower. It might help if you learn the basics of pruning, as your Yellowstone crop can benefit significantly from the right pruning at the right time.
If you decide to grow indoors, your plants will reach a standard height of 110 cm (43 INCH). However, outdoors your plants may grow as tall as 150 cm (59 INCH). The Yellowstone strain is relatively resistant to humidity fluctuations but likes stable and warm weather, so only attempt growing outdoors if you live in a warm climate.
Expect a flowering time of between 8 and 9 weeks, and book your September for harvesting if you grow outdoors in the Northern Hemisphere.
Yellowstone Feminized Seeds for sale
Here at Marijuana Seed Breeders, we know a quality seed when we see it.
We use our years of experience as breeders to create our own strains and produce our own seeds. This experience also helps us to identify and source the best seeds and strains out there and bring them to you.
After meeting The Kush Brothers and assessing their products in person, we knew we had to share what they are doing with you. That's why we have decided to make The Yellowstone Feminized seeds available for sale.
The Yellowstone strain is one of a few strains by The Kush Brothers we have decided to add to our stock. We predict this selection will fly off the shelves quickly, but, fortunately, you can purchase them now and use them later, as they will not degrade in quality for up to 5 years!
Curious about the best way to store your seeds? Then read our article about How long do marijuana seeds last (and how to store them).
And if you would rather stick to the good, old classics, check out our Cheese selection. We have both Feminized Cheese and Auto Cheese seeds that are strong, resilient, and an absolute delight to consume.

Breeder
Kush Brothers
CBD Level
Unknown
THC Level
18 to 20%
Climate
Indoor / Outdoor
Yield indoor
550 Gr. / 19 Oz. dry weight per m²
Yield outdoor
800 Gr. / 28 Oz. dry weight per m²
Height indoor
Up to 110 cm / 43 inch
Height outdoor
Up to 150 cm / 59 inch
Flowering time
8 to 9 weeks
Indica / Sativa
40% Indica | 60% Sativa
Harvest Month
End of September
Grow difficulty
Easy

Stress
Pain
Depression
Insomnia
Lack of Appetite