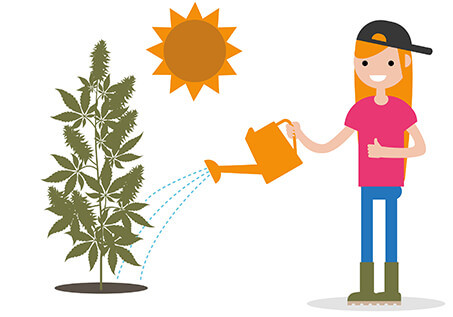 This article will help you with picking the best outdoor strain for high yield.
You will learn:
The benefits of growing outside
How to grow successfully depending on your climate
Our best outdoor strains for high yield
Lots more
Ready to choose the strain for your next grow?
Let's dive right in!
Quick Overview:
Best Outdoor Strain for High Yield
Benefits of Growing Cannabis Outdoors
Cannabis is one of the oldest crops to date and for decades this plant has been cultivated outdoors. Indoor growing has only been around for about a century—this is due to prohibition, which forced cannabis production into secret enclaves. Because of this, most advancements in cultivation came about in this scenario.
Over time, the industry expanded its research and outdoor growing came into the spotlight again, with even more gusto than ever before. This is important not only for growers but for consumers as well—as it provides even more information to go by when choosing the best strains.
There are three critical benefits of growing cannabis outdoors versus indoors.
Benefit 1: Marijuana in it's Natural Environment
Many proponents of indoor growing will say this factor is a con to outdoor growth as the environment is open to uncontrollable variables. These can include seasonal changes, infestations and more.
However, this is where the plant belongs. Many find the aroma and flavor of outdoor plants superior to their tightly-controlled indoor counterparts.
More importantly, the amount, and spectrum, of light a cannabis species receives indoors will never add up to that provided by the sun. This leads to plants with lower yields and less vigor overall.
With a suitable climate for production, growing cannabis outdoors promises more return on your investment and stronger plants to boot.
Benefit 2: Low Production Costs
Growing indoors requires a slew of costs that outdoor growing doesn't. The steep price includes climate control systems, additional labor and the rising costs of energy.
A high turnover with indoor growing demands more work to be done—pruning, feeding and watering, to name a few tasks. This equates to more workers.
Outdoor farms may require only a handful of employees until harvest time when their payroll will increase temporarily. Furthermore, the startup capital of any given business usually covers the initial costs associated with the endeavor.
Benefit 3: Better Yield
In some ways, a grower has more control over indoor plants. It's why this type of growing is associated with pristine outcomes. The scale of the harvest is minimal, which allows a discerning focus on a limited number of species.
However, this also accounts for the lower yields seen with indoor growing. With restricted space available, growers cannot come close to the harvest size of outdoor farms.
Here at Marijuana Seed Breeders, you can only see the difference between one species when it's grown in both locations.
With Blue Dream, for example, a plant grown outdoors may reach 300 cm/ 118 inch while its indoor growth comes in at approximately 110 cm/43 inch tall. The yield amounts to around 30 percent more in its natural habitat.
Choosing Strains Based on Climate
A wide variety of climates and weather patterns make cannabis production possible. That doesn't mean you should throw caution to the wind and treat each strain as the next. Depending on the species, it will grow best in a specific location.
This is the most critical factor in finding the best outdoor strains for high yields. A strain that's successful in a temperate location won't do as well in a tropical zone.
Extreme South or North
Those living in either the extreme south or north will face the greatest challenges because the equator is far away. This means a shorter growing season due to consistently low temperatures and less light.
Look for strains with a short flowering cycle, so the plants aren't struggling to thrive under harsh conditions for too long.
Temperate
Medium to warm temperate zones provide the best climate for cultivation in general. With mild winters and long summers, the seasonal variation gives plants a clear indication of whether to flower or not.
Strains that require a longer flowering time will benefit here.
Coastal
It's not only sunlight and temperature that affect strains grown outdoors. The level of moisture in the area makes a considerable difference as well.
Depending on your location, this can vary greatly—arid climates that receive less water are challenging and more difficult to grow in.
For those in coastal or humid areas, we recommend investing in mold-resistant outdoor strains to help protect those buds.
What Does the Law Say?
Before embarking on your outdoor grow mission, it's essential to know what the laws say in regards to not only possessing but growing cannabis. This, of course, differs from country to country, state to state and even between cities.
We highly recommend researching your specific grow location accordingly. For the sake of brevity, we'll use California as a well-known example.
Proposition 64 states that if you're over the age of 21, you're allowed to grow up to 6 plants per residence. Medical marijuana patients and caregivers may be given permission to grow a higher amount—depending on the needs of said patient.
It's up to you to grow responsibly. Not only where legal matters are concerned but for the sake of the environment as well.
Best Outdoor Strains for High Yield: The Reviews
It's time to cover the best outdoor strains for high yield—guaranteed to bring you quality products, in quantities superior to indoor scenarios.
There's no better place to start than with our favorite:
Chronic Feminized review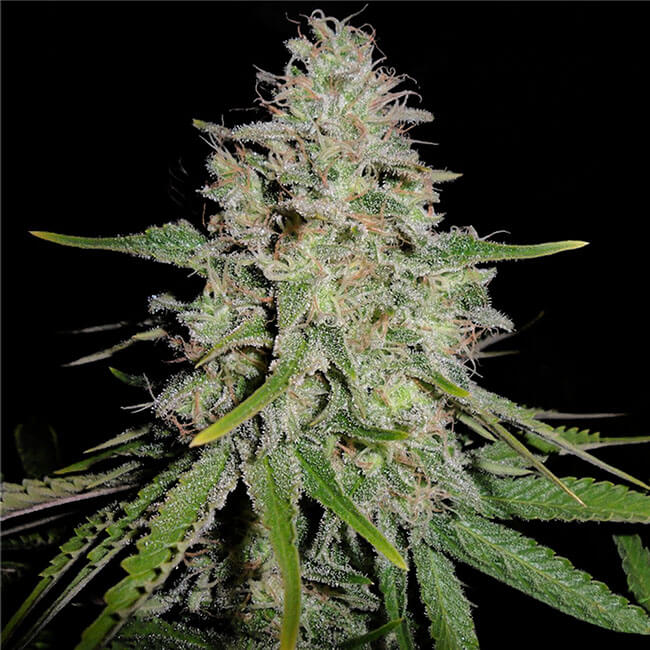 ---





---





While the word "chronic" is often used as a descriptor for strong weed, this particular species has an appropriate name. After all, it's an award-winning strain with a refined quality that's appeased growers for years in a row.
It grows up to 230 cm/ 90 inch outdoors with an impressive yield of 900 Gr. or 32 Oz, per m2 / 11 ft2. With that said, this amount depends on heavy and constant sunlight so your climate may or may not be suitable.
With a seven to 10-week grow time, this plant is suitable for beginner growers, thus regularly recommended to our clientele. It's an appropriate option for those that live in less-than-desirable climates for these reasons.
It contains 21 percent THC with little CBD in tow.
Chronic is another hybrid—70 percent Sativa and 30 percent Indica. This ensures that the high this plant offers brings the best of both worlds. It wasn't named by random either, this plant is potent and enjoyed for medical and recreational purposes alike.
With the former group, this strain is best for treating high blood pressure, diabetes and mental illnesses including clinical depression. The plant can also be useful for minimizing stress and stimulating one's appetite.
Easy to grow
---
Impressive yield
---
Potent effect
Low CBD content at 0.5 percent maximum
Blue Dream Feminized review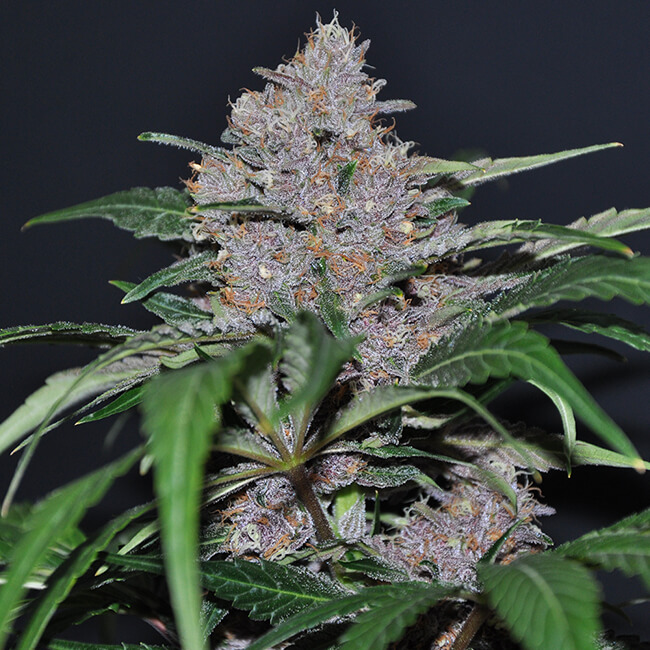 ---





---





We made this specialized hybrid by bringing together New York City Diesel and a Blueberry Sativa. The latter constitutes around 65 percent of the plant, making it a Sativa-dominant strain.
Blue Dream has a sweet taste accompanied by beautifully-colored buds that may remind you of blueberries.
Seeds require approximately 10 days to grow after germination and the plants respond best when grown in potting soil with an additional root enhancer. Come early May you can move the seedlings to their permanent surroundings outside. At the end of July, the flowering time takes 8 to 10 weeks in total.
This species can handle a great number of nutrients as well—one of the many reasons it's successful outdoors. As mentioned above, it will reach nearly 300 cm/ 120 inch outside with a yield of about 800 Gr. or 28 Oz, in dry weight per m2 / 11 ft2.
The effect? Thanks to its balance of Sativa and Indica, it's smokeable during the day and night providing both a body and head high. Those suffering from stress may benefit from this strain.
If you're looking to ditch your prescription painkillers, Blue Dream may be your answer as it's a popular option for this issue. Muscle pain and back discomfort are said to subside too.
Great for temperate climates
---
THC level at 23 percent
---
Relatively short flowering period
Northern Lights Feminized review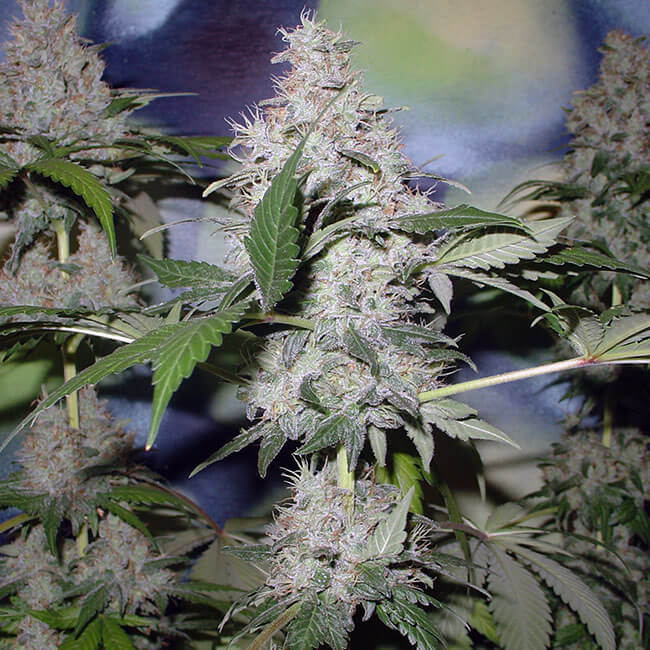 ---





---





We've reached one of the most beautiful-looking plants that Marijuana Seed Breeders has to offer. A descendant of an Afghani Indica, Northern Lights was initially cultivated in California. It was made to grow indoors, but that doesn't stop its success under the sun's rays.
This well-loved species boasts a short flowering time—as little as 8 weeks up to 10. Come September, you could be enjoying the fruits of your labor much earlier than with other strains.
The plant grows to around 200 cm/ 79 inch tall with a yield of 650 Gr. / 23 Oz. per m2 / 11ft2. This species produces impressive buds that create a show on their own, along with a pleasant taste and odor.
An intense high lends itself to lowered stress and pain levels. It's also used for minimizing the effects of depression with a 75 percent Indica dominance.
CBD levels are unknown as of yet, but the plant has a THC content of 22 percent.
Short flowering time
---
Beautiful hues of green
---
High THC content
Requires prior knowledge to grow
HeroDawg Feminized review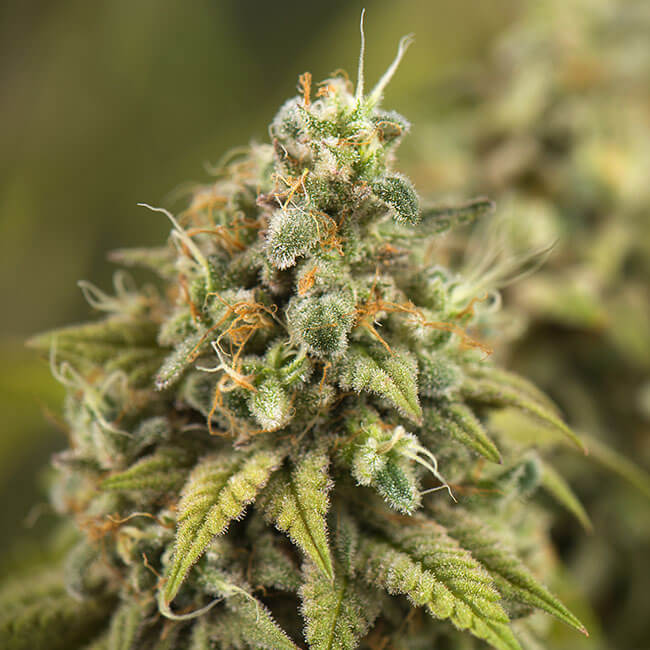 ---





---





Last but not least, HeroDawg is a lesser-known strain but not without its merits. For those looking to get really stoned, this cross between ChemDawg BX1 and Herijuana takes you there.
It's a heavy head high that might be surprising as HeroDawg is a species dominated by Indica, at 65 percent.
Less geared towards killing pain, the species is nonetheless beneficial for other medical conditions. This includes ADHD, migraines, chronic depression and the relief of muscle spasms.
HeroDawg contains a CBD content between 3 and 6 percent—the highest on our list. It's not short on THC either at 23 percent.
Where growing is concerned, HeroDawg requires a moderate skill level to pull off a flowering time of nine weeks. It reaches up to 220 cm/ 87 inch high, yielding approximately 600 Gr. / 21 Oz. per m2 /11 ft2. You can count on October being your time to harvest with this one.
High CBD and THC content
---
Indica dominant
---
Helpful for various medical issues
The effect may be too strong for some
Here it is: Our Pick for the Best Outdoor Strains for High Yield
As cannabis laws and regulations are becoming laxer, now is the time to consider growing outdoors. With proper care and smartly-chosen strains, your yield will multiply offering robust buds after flowering is complete.
If we had to choose our favorite, the award would go to Chronic Feminized. This plant has received its fair share of accolades, and deservedly so. At a yield of 900 Gr. / 32 Oz per m2 / 11 ft2 in as little as nine weeks, it makes for an impressive harvest.
To top it off, beginners are encouraged to start with this specific plant making it suitable for everyone and anyone to try out. The best outdoor strain for high yield will have you feeling relaxed when all's said and done.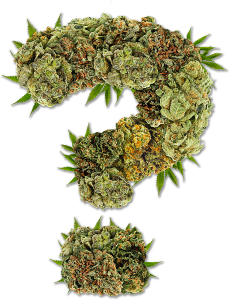 PICKING THE RIGHT STRAIN
We hope this guide helped you picking the right strain for your next growth.
Did you know that you can use Marijuana for many purposes?
We wrote a guide in which you will learn everything you need to know to help you picking your best weed strain(s).
The difference between Indica, Sativa, Ruderalis & Hybrids
What is THC, CDB? What are Terpenes?
Picking the right strain for the right purpose
Lots More
Learn to pick the best weed strains!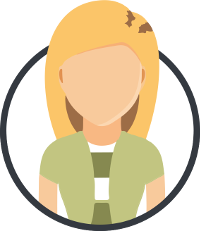 Article by:
I have a passion for nutrition, organic supplements, and (mental) health. After learning about the beneficial properties of marijuana, I dedicated myself to writing articles that will teach you everything there is to learn about this miraculous plant. I'm looking forward to sharing with people how they can incorporate the benefits of marijuana into their healthy lifestyle: you don't have to smoke to consume marijuana.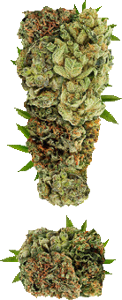 Did you like this?
Sign up today and be the first to receive updates and special offers from our breeders.
Subscribed successfully
Happy growing,
Bob