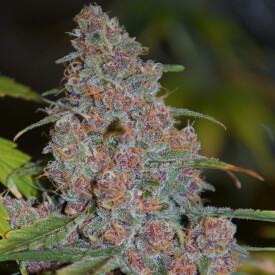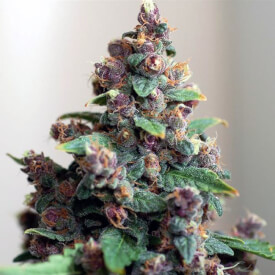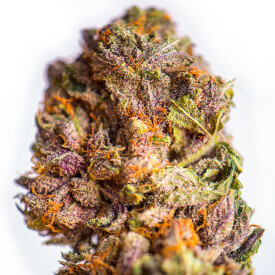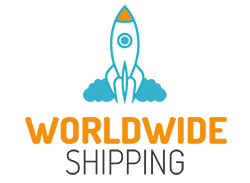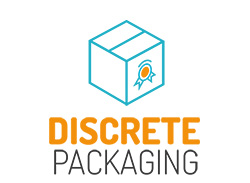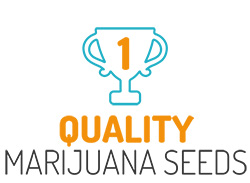 Caramelicious Auto Feminized
The deliciously sticky and relaxing Caramelicious strain is an absolute sweet delight.

Read Full Description
Caramelicious Auto Feminized
The deliciously sticky and relaxing Caramelicious strain is an absolute sweet delight.
Also known as Caramel or Caramella, this strain will not knock you out. Even though the THC content of this indica-dominant strain can reach 20%, it will not give you a couch lock effect. Instead, its Indica, Sativa and Ruderalis genetics will give you a happy and calming (but not sleepy) high.
Caramelicious weed is a delicious after-dinner smoke that will keep you engaged with whoever came for dinner that evening.
Growing with Caramelicious Autoflower seeds is not hard and can be very enjoyable. You will need to do a little bit of pruning here and there, but for most growers that's a very pleasant experience.
The Caramelicious Strain
The Caramelicious strain is a cross between Maple Leaf, Afghan Kush and Ruderalis, although some believe Blue Black is also involved. This would not surprise us, as Caramelicious weed has many great qualities of some of the best strains out there.
Blue Black, known for its uplifting effects, could very well be the reason why the Caramelicious strain makes us all so happy.
The effects of Caramelicious weed
Caramelicious weed is a social Indica. It relaxes the body and mind without knocking you out or making you lose control.
This sweet treat will most likely make you quite giggly, friendly, and creative. No couch lock, just a deep and pleasant chill-out effect.
Even though the THC level is high, the Caramelicious strain will not make you feel spaced out or excessively sleepy. This is mostly thanks to its Sativa and Ruderalis genetics. Some say this all makes it a perfect addition to any movie night.
Just make sure to have a tall glass of water next to you to prevent dry mouth. And if you decide to have a wake and bake, make sure you have sunglasses at hand, as your eyes may become sensitive and get a bit more red than you might like.
Smell, taste, and high of Caramelicious
As the name suggests, the Caramelicious strain is caramel-like and delicious. It is sweet and creamy, both in taste and smell. It is therefore no surprise that people love using it to make edibles.
Caramelicious seeds produce plants with great-looking buds. When you break the buds with your fingers, you will experience an earthy aroma reminiscent of olive oil. However, this will change the moment you light it up.
The smoke coming from Caramelicious weed carries hints of honey and vanilla, and is not too thick. It provides a good and easy smoking experience and instantly hits you with a sweet toffee flavor.
Growing Caramelicious Autoflower Plant
Growing from Caramelicious seeds requires some effort, but fortunately not loads.
Because of its Ruderalis genetics, the plants won't grow too tall (110 cm. / 43 in. for indoor grows and up to 160 cm. / 63 in. for outdoors), but they can get bushy and a little wild. As a result, you will need to perform some basic pruning. With no pruning whatsoever, your grow might result in weaker yields, or you might encounter some serious space problems - especially if you are growing indoors.
You should also remember that Caramelicious plants enjoy a good amount of nutrition. They will repay you with a satisfying and good-looking yield. You can expect around 400 gr./ 14 oz of dry weight per M² for indoor grows and 500 gr. / 18 oz. for outdoor grows.
As these are autoflowering seeds, the flowering time is short and usually only takes around 8 to 9 weeks. Another reason the Caramelicious strain is so good is that you can harvest it outdoors multiple times a year.
While it does not need a hot climate, it does require good air circulation. This is due to the structure of the plants. They tend to be bushy with a high density of branches, even with regular pruning. If the air circulation is lacking, you might end up dealing with mold and mildew, which can destroy even the most promising harvest.
Besides that, as long as you protect your plants from frost, growing outdoors in the north should not cause you too many headaches.
Caramelicious Seeds for sale
Yes, we do offer Caramelicious Seeds for sale. But on top of that, we ensure the seeds you get are the best out there.
As three experienced and weed-loving breeders, we know how to make your life easier and each harvest as successful as possible. If you do not know where to start, check out our Marijuana High School.
And if you are looking for a more potent Indica, why not try our OG Kush? Or, if the training and pruning seem a bit too intimidating, give Gelato a try. It might be a little less sweet in flavor, but it will be less demanding to grow.

Strain specifications
Caramelicious
Auto Feminized
Breeder
Various
CBD Level
Unknown
THC Level
20%
Climate
Indoor/Outdoor
Yield indoor
400 Gr. / 14 Oz. dry weight per m²
Yield outdoor
500 Gr. / 18 Oz. dry weight per m²
Height indoor
Up to 110 cm / 43 inch
Height outdoor
Up to 160 cm / 63 inch
Flowering time
8 to 9 weeks
Indica / Sativa
50% Indica | 20% Sativa + Ruderalis
Harvest Month
Outdoor multiple times a year
Grow difficulty
Moderate

Effects
Caramelicious
Auto Feminized
Stress
Pain
Depression
Insomnia
Lack of Appetite