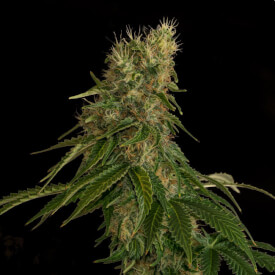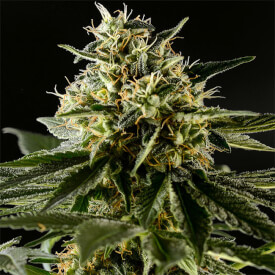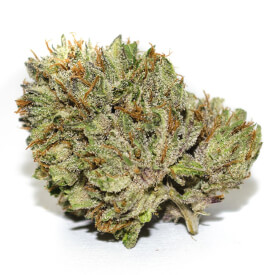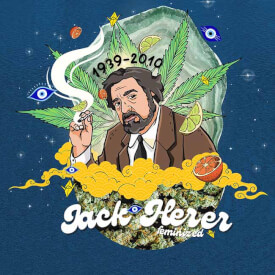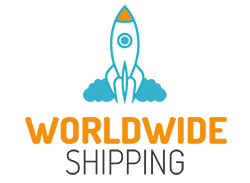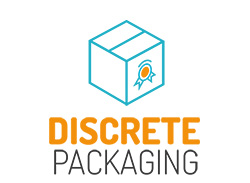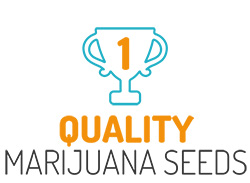 Jack Herer Feminized
Few strains enjoy as much name recognition and prestige as this cross between Shiva Skunk # 1, Northern Lights, and Haze: the world-famous Jack Herer strain seeds.

Read Full Description
Jack Herer Feminized
Few strains enjoy as much name recognition and prestige as this cross between Shiva Skunk # 1, Northern Lights, and Haze: the world-famous Jack Herer strain seeds.
Jack Herer is named after one of the most influential cannabis activists and pioneers of cannabis legalization, who also achieved world fame as the author of "The Emperor Wears No Clothes". Known for its powerful uplifting effect and great taste, this multiple award-winning strain has a large fan base and enjoys legendary status.
Jack Herer seeds' rise to fame
Jack Herer is of Dutch origin and first arose in the mid '90 as a medical-grade strain. Due to its uplifting effects and potency, it didn't take long before she became one of the most sought after recreational strains as well. Since then this powerful and wonderfully fragrant strain has taken home many awards.
Various variations have emerged over the years. These lean slightly towards the Indica or Sativa side. Still, Sativa-dominant specimens are the most common.
Growing Jack Herer feminized
Jack Herer marijuana seeds are fairly easy to grow, which makes her accessible and suitable for growers of all skill levels.
While Jack Herer is generally quite resistant to diseases, fungi, and pests, she still prefers a dry, warm, and sunny climate when grown outdoors. Due to its versatility and ease of growth, she also achieves excellent results when grown in a greenhouse or indoor grow room. In this set up expect an average yield of around 600 Gr. / 21 Oz.
Outdoors, under optimal conditions, she can yield up to 900 Gr./ 32 Oz. per m2. The flowering period is average and will take about 9-10 weeks. Some phenotypes of this remarkable marijuana strain even yield considerably more. The best time to harvest is generally late September or Early October.
The appearance of the Jack Herer strain
One of the great features of Jack Herer marijuana seeds is that they offer growers a variety of phenotypes. Because of these multiple phenotypes, don't expect a crop full of identical plants. Jack Herer contains no less than 4 different phenotypes. 3 of Jack Herer's 4 phenotypes harbor clear Sativa dominant traits while the fourth tends to be more Indica dominant. In most cases, the effects are more cerebral than physical.
This offers great opportunities for making later selections where you can choose which phenotype best suits your requirements and needs. The best part is that Jack Herer retains her potency regardless of the phenotype.
The scent and flavor of Jack Herer seeds
Undeniably another one of Jack Herer's most prominent features is the citrus and spice notes that give her a unique and intriguing flavor profile.
Intense top notes of lemon and orange offer a nice contrast with the sweet base notes reminiscent of sultry nights, followed by subtle pine and a hint of Skunk and earthy wood.
The extraordinary range of flavors this strain has to offer is an excellent addition to almost every sweet or savory edible as well.
Effects of Jack Herer seeds
Jack Herer weed has a THC level that fluctuates between 18-24% depending on the phenotype.
With up to 24% THC it's no surprise that Jack Herer provides a mind-blowing high. Depending on the phenotype, you'll be able to enjoy an astonishing Sativa high. The effects come up almost instantly and linger for several hours. The high is mainly cerebral with a slight body buzz.
Due to her stimulating and uplifting effects, Jack Herer is quite popular with active and creative users, who make use of her inspiring effects during daily activities and for social occasions. She sparks deep, meaningful conversations and makes your creative juices flow freely.
What do we have to offer?
You are looking for quality seeds, experience, and high-level customer service, right? Here at Marijuana Seed Breeders, we have over twenty years of experience. We are 3 seasoned Dutch breeders, who are passionate about breeding, crossing, and growing cannabis seeds. With this high-level of expertise, we always have plenty of seeds and new strains with high THC levels.
We only offer high-quality cannabis seeds. If you buy 5 seeds, you will get 5 plants. Of course, we trust you to create the best atmosphere for growing your Jack Herer marijuana seeds. We also sell a variety of grow supplies to optimize your results when growing your own Jack Herer strain.
You are important to us!
Whether you're a newbie or seasoned grower, if you have any questions, simply give us a call or email us. We pride ourselves on always putting the customer first so your wishes are super important to us. We offer germination instructions with a germination guarantee. If you are not 100% satisfied with your cannabis seeds or any of our other products, please just let us know!
Simply click add to cart, and check out the credit card option or any of our payment methods. If you buy your Jack Herer feminized seeds today we promise you, you will never want to order weed seeds at another seed bank ever again! To see what other customers have to say about us, check out our customer ratings on KiyOh. We are beyond proud that many have rated us 5 stars!
You can buy Jack Herer feminized seeds in quantities of 5 seeds, 10 seeds, or 20 seeds.

Breeder
Henk
CBD Level
Unknown
THC Level
18 to 24%
Climate
Indoor / Outdoor
Yield indoor
600 Gr. / 21 Oz. dry weight per m²
Yield outdoor
800 Gr. / 28 Oz. dry weight per m²
Height indoor
Up to 140 cm / 55 inch
Height outdoor
Up to 180 cm / 71 inch
Flowering time
9 to 10 weeks
Indica / Sativa
45% Indica | 55% Sativa
Harvest Month
September/ October
Grow difficulty
Easy / Moderate

Stress
Pain
Depression
Insomnia
Lack of Appetite