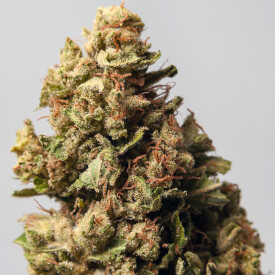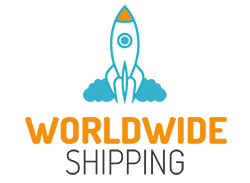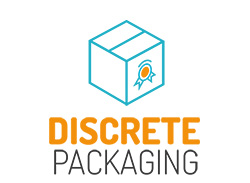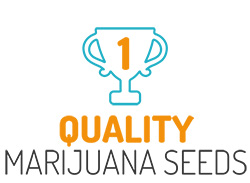 Sour Diesel Feminized
Sour Diesel feminized is a mostly Sativa crossing between Chemdawg x Super Skunk. Sour Diesel, AKA "Sour D", offers mind-blowing cerebral effects that are fast-acting, long-lasting, and energizing. This strain features a signature flavor that smells and tastes like diesel. Sour Diesel first became popular in the early '90s.

Read Full Description
Sour Diesel Feminized
Sour Diesel feminized is a mostly Sativa crossing between Chemdawg x Super Skunk. Sour Diesel, AKA "Sour D", offers mind-blowing cerebral effects that are fast-acting, long-lasting, and energizing. This strain features a signature flavor that smells and tastes like diesel. Sour Diesel first became popular in the early '90s.
Sour Diesel feminized is a very pungent and aromatic variety. Heavy fuel-like, yet citrusy aromas are just one of her quintessential trademarks. The impressive quantitative and qualitative yield, resinous glistering buds, and excellent medicinal properties only add to her appeal.
The appearance of Sour Diesel feminized
Sour Diesel is the textbook example of what a classic cannabis plant should look like:
Light green with slightly darker sugar petals and light pink-orange pistils that vary from a soft peach to fiery blood orange and contrast beautifully against the bright green hues.
The tight buds covered in a multitude of tiny shiny crystals reveal the high THC levels and potency of this powerful strain.
Taste and effect of Sour Diesel
Sour Diesel contains high THC levels, which range between 20% and 24%. This strain might be a little too potent for novices to start with.
Her characteristic flavor pallet of citrus, exotic spices, and the predominant almost fuel-like aromas are everything you would expect from a diesel strain.
The strong diesel aroma may be an acquired taste, but considering its popularity, it's one many enjoy.
This cannabis strain increases your energy levels and provides you with a powerful cerebral high that is simultaneously very physically stimulating. The effects of Sour Diesel will linger for quite some while.
Enjoy Sour Diesel preferably during the daytime due to its energizing and uplifting effects.
Growing your Sour Diesel feminized seeds
The Sativa characteristics she inherited from her Super Skunk predecessor are especially evident in its growth structure and the strong, lingering high. You can grow Sour Diesel both indoor and outdoor. Their resinous buds and strong aroma develop during a flowering period of about 10 weeks.
Outdoors this plant will reach a height of approximately 160-200 cm and will stretch nicely at the beginning of the flowering period. This Sativa dominant strain prefers a hot and dry, climate without too much humidity.
Indoors, Sour Diesel feminized reaches an average height of 1-1.3 meters and has a flowering time of around 10 weeks - quite a fast grower considering she is a Sativa dominant strain! In terms of yield, you can expect around 450-600g / m². Make sure to use a good carbon filter to diminish that strong diesel smell!
Sour D is a very forgiving strain, she is not too affected by nutrient deficiencies or surpluses and handles bugs and mold rather well. These qualities make her an ideal strain for beginners. Watch out for mildew though!
Medicinal use of Sour Diesel seeds
Medical marijuana users that are looking for a high-quality medicinal strain, frequently turn to Sour Diesel for help relieving symptoms related to depression, pain, and stress.
The powerful effect of this Sativa dominant strain translates into deep relaxation but keeps your energy levels up and doesn't leave the user feeling overly tired or lethargic. This makes her extremely suitable for treating mental issues such as depression, SAD, or burnouts. Some users even report that this is one of the best strains to battle (work-related) stress.
The longevity of her effect boosts your mood throughout the day without non-stop having to surround yourself in a thick cloud of smoke. A little goes a long way with this potent diesel fuel hybrid strain.
Our breeders
We started Marijuana Seed Breeders with 3 breeders. Together we share a high level of expertise and have over 20 years of experience. Because there are 3 of us, each with our own specific specialty, we can offer our customers a wide variety of cannabis strains. The cannabis seeds you order come straight from the breeder. That way we can guarantee the freshest weed seeds and highest quality genetics. If you ensure all the factors are right, we promise all your Sour Diesel seeds will turn into a plant. Learn more about us and how it all started here.
Giving your Sour Diesel feminized seeds the best possible start
Whether you're a novice grower or have years and years of experience under your belt: When you've purchased high-quality marijuana seeds, you want the best possible results. Marijuana Seed Breeders now offers the Healthy Roots Starter Kit. This kit contains 3 very powerful growth products: Spongepot, Mycorrhiza Mix, and Rhyzobac with added Trichoderma fungi. Indispensable products for healthy growth during the flowering time and a bountiful harvest of your Sour Diesel marijuana plants!
Buy Sour Diesel today
Many growers have gone before you, but let us tell you again why you should buy Sour Diesel at MSB. Aside from providing only the highest quality genetics, we feel it is our responsibility to offer the very best customer service and your wishes are of paramount importance to us.
Placing your order is super easy! And we offer stealth shipping all around the world. Choose your strain, click add to cart, choose credit card or one of our many payment methods and buy Sour Diesel seeds today.
Are you not happy about your cannabis seeds, our shipping, or some of our other products? If anyone has any questions, suggestions, or even complaints, we ask you to simply give us a call or email us.
To see what other customers have to say about us, check out our customer reviews on KiyOh. Many of our customers have rated us 5 stars! We encourage you to write a review about your order as well!
Sour Diesel feminized seeds are available in a quantity of 5 seeds, 10 seeds, or 20 seeds.

Breeder
Creator
CBD Level
Unknown
THC Level
23%
Climate
Indoor / Outdoor
Yield indoor
400 Gr. / 14 Oz. dry weight per m²
Yield outdoor
800 Gr. / 28 Oz. dry weight per m²
Height indoor
Up to 110 cm / 43 inch
Height outdoor
Up to 180 cm / 71 inch
Flowering time
9 weeks
Indica / Sativa
30% Indica | 70% Sativa
Harvest Month
September
Grow difficulty
Easy / Moderate

Stress
Pain
Depression
Insomnia
Lack of Appetite