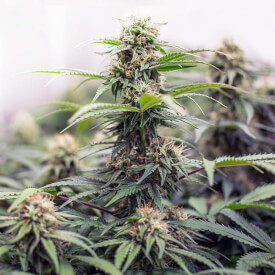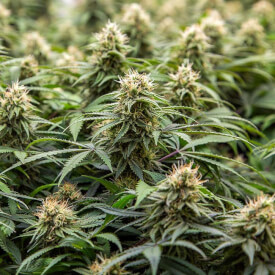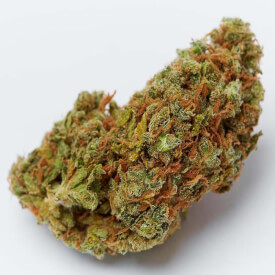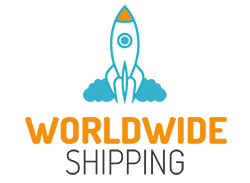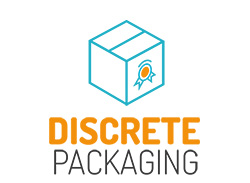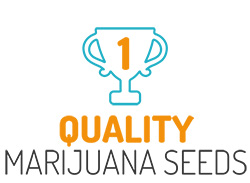 Strawberry Cough Feminized
Strawberry Cough Feminized
Strawberry Cough is a reliable crowd-pleaser.
This sativa-dominant hybrid gives a pleasant, happy and social high.
Growing beautiful cannabis plants from Strawberry Cough feminized seeds is quite easy. This is especially the case if you are comfortable using the Screen of Green (SCROG) technique.
An excellent choice for people who enjoy an uplifting morning hit to get their day started.
Strawberry Cough Strain
The Strawberry Cough strain is a hybrid of two strains. The first is one of our own strains called Original Haze, which is a pure sativa. The second is Strawberry Fields, a well-known indica-dominant strain.
The Strawberry Cough strain has a THC level of 15%. Perfect for a nice buzz without making you feel like you've lost control.
The energizing properties of Strawberry Cough are a result of the Original Haze genetics, whereas its famous smell comes from the Strawberry Fields.
The strain is so iconic that it even became an inspiration for a famous Nike shoe!
What does Strawberry Cough taste and smell like?
Have you ever had a chance to smell freshly picked strawberries? If so, what probably comes to mind is the slight scent of sweetness mixed with the earthy aromas of the ground. And that's exactly how this strain smells.
When you smoke it, the taste will be fresh, herbal, and woody, with a hint of sweetness. The sweetness will come through especially when you exhale.
Beware that even the most experienced smoker may be prone to coughing. If you are sharing this strain with a friend who has not smoked in a while - give them a little warning and assure them that coughing is a normal reaction to the Strawberry Cough strain. After all, the word "cough" is in the name for a reason.
What are the effects?
The primary and overriding feeling you should get from the Strawberry Cough strain is pure joy and happiness.
Expect a lot of laughter, especially when shared with others. Strawberry Cough is one of those strains that will help you enjoy other people's company and their humor. As a result, you won't feel anxious or paranoid. Instead, expect to enjoy the buzz while making good memories and still having enough energy to return home to your bed.
Strawberry Cough is very popular among regular users.
Many fans report that its uplifting properties, combined with its ability to increase focus, make it a great strain to use in the morning.
It is also a good fit for people who are prone to feeling extra anxious or paranoid after consuming weed. Strawberry Cough tends to decrease anxiety without clouding your head.
Growing Strawberry Cough Plants
The Strawberry Cough feminized seeds produce some outstanding plants.
While the buds might not have the greatest bag appeal, the plants themselves are beautiful.
Strawberry Cough produces relatively bushy plants that are easy to grow both indoors and outdoors. Indoors, the plants will reach up to 90 cm high, while outdoors, they can grow up to 150 cm / 59 inch.
Because of its beautiful, bushy structure, Strawberry Cough responds very well to the Screen of Green (SCROG) technique. It's a simple method that allows plants to spread and grow horizontally in order to increase light exposure.
Fortunately, Strawberry Cough plants are strong and will not break even if you decide to grow them without the SCROG technique.
The flowering time is 9-10 weeks. The harvesting time for outdoor grown plants is somewhere between September and October. Expect a yield of around 400 gr. / 14 oz. for indoor plants and approximately 600 gr. / 21 oz. for outdoor plants.
Like many other strains, Strawberry Cough enjoys a lot of sunshine and warm temperatures (even at night). It is rather pest and mold-resistant, which makes it easy to grow. The one thing to keep in mind if you decide to grow it outdoors is that caterpillars seem to love this strain as much as we do. So keep an eye out for these little insects.
Strawberry cough seeds for sale
Here at Marijuana Seed Breeders, we ensure that your growing experience is always pleasant.
As three experienced breeders, we know there's nothing more disappointing than a poor yield. Especially when it's due to lousy cannabis seeds. For this reason, we only sell marijuana seeds that we would grow ourselves. We only provide the best of the best on the market.
As we have used our own strain to create this one, you won't find these Strawberry Cough seeds for sale anywhere else.
If you are interested in trying out our Original Haze, we have some feminized seeds available in our store. You might also enjoy a slightly more potent, award-winning, autoflowering strain called Amnesia Haze, created by our breeder Henk.

Strain specifications
Strawberry Cough
Feminized
Breeder
Various
CBD Level
Unknown
THC Level
15%
Climate
Indoor / Outdoor
Yield indoor
400 Gr. / 14 Oz. dry weight per m²
Yield outdoor
600 Gr. / 21 Oz. dry weight per m²
Height indoor
Up to 90 cm / 35 inch
Height outdoor
Up to 150 cm / 59 inch
Flowering time
9 to 10 weeks
Indica / Sativa
25% Indica | 75% Sativa
Harvest Month
September/ October
Grow difficulty
Easy

Effects
Strawberry Cough
Feminized
Stress
Pain
Depression
Insomnia
Lack of Appetite