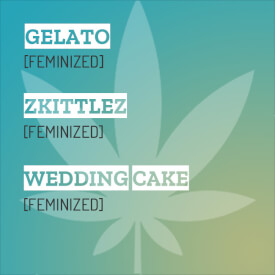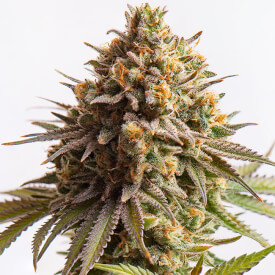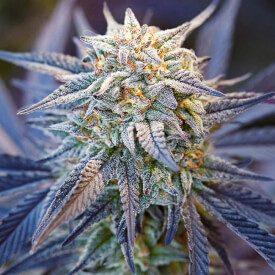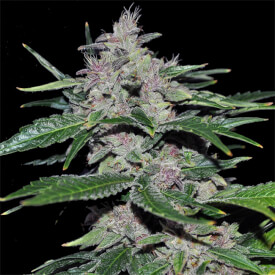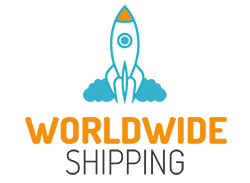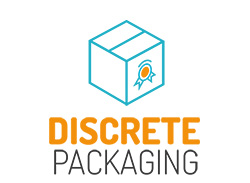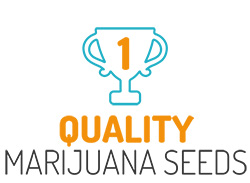 Tasty Mixpack Feminized
Are you looking for strains that are as delicious as they are strong? Our Tasty Mixpack is full of exactly that.

Read Full Description
Tasty Mixpack Feminized
Are you looking for strains that are as delicious as they are strong? Our Tasty Mixpack is full of exactly that.
The three famous strains we chose for our Tasty Mixpack are Gelato, Zkittles & Wedding Cake. They are sweet (as the names suggest), strong hitters, and packed full of crowd-pleasing flavors.
Content of the Tasty Mixpack
Strain #1: Gelato Feminized Seeds
The effects
Gelato is a heavy hybrid. This potent strain (20% THC) can make you feel confident, happy, and relaxed without becoming permanently stuck to the couch. Some claim Gelato is a great aphrodisiac, making it a lovely strain to share with a partner.
Smell, taste, and high
When it comes to flavors, Gelato is packed full of them. This sweet and delicious strain has a fresh smell similar to fruity ice cream mixed with cream soda. Some also detect a hint of vanilla in the taste. This 55% indica and 45% Sativa provides a well-balanced mix between body and head high.
Appearance
The plants tend to be bushy and might require some pruning, but the buds that grow from these tasty feminized seeds have a great bag appeal. Gelato buds are deep purple and green. However, what makes them truly beautiful are the orange hairs that pop out and the white coating that gives the buds a nice shiny finish. This particular color palette makes Gelato not only a pleasure to consume but also to look at.
Summary
Gelato is a powerful, sweet, and effective strain that gives both a body and head high. This slow burner works best when consumed in a comfortable, safe environment. Some say Gelato is a romantic strain, making it the perfect dessert for a relaxing evening at home.
Strain #2: Zkittlez Feminized Seeds
The effects
This strain offers great relaxation. While Zkittlez may make you feel one with the ground you are standing on or the chair you're sitting in, it will not make you lose control. Instead, you will feel happy and confident, although probably not very productive.
Smell, taste, and high
Zkittlez is a strong and delicious strain with a 23% THC level. Its smooth, fruity flavor and smell make you think of grapes and tropical fruit syrup.
Zkittlez gives a great body high. It can make you very sleepy, but it is possible to push through the tiredness and enjoy the high, instead of drifting away into dreamland.
Appearance
The plants that grow from these tasty feminized seeds are what you can expect from indica hybrids. They are small and dense, so you will need to attend to them regularly and ensure proper airflow between the branches. The buds are light green, the pistils golden, and the trichomes milky white, making this strain bright and beautiful.
Summary
Zkittlez is an indica-dominant strain that smells and tastes better than many others you might have tried before. The buds look as good as they taste. Zkittlez gives a great body high to enjoy at the end of a tough day. Just make sure you have some food around, as this strain is known for causing some serious munchies.
Strain #3: Wedding Cake Feminized Seeds
The effects
With a THC content of 23%, this strong and popular indica-dominant strain affects the body very quickly. Expect a short burst of energy, followed by some good giggles and joyful conversations. Once that passes, you can enjoy the soothing and relaxing effects by lying in a hammock, watching a movie, or snacking on whatever you have in the kitchen.
Smell, taste, and high
Notes of spiciness and earthiness mixed with its natural sweetness give Wedding Cake its unique flavor that everybody seems to love so much.
The thick smoke produced is surprisingly smooth and pleasant. The high is intense and long-lasting. It is best to consume Wedding Cake around people you are comfortable with and in places you are familiar with.
Appearance
The buds are intensely green, with dark amber pistils and full of trichomes. The plants you'll grow from the Wedding Cake feminized seeds are like most Indicas - short and robust. Make sure to maintain a stable growing environment with particular attention to providing excellent airflow, just like the other two strains in this tasty variety pack.
Summary
Wedding cake is potent, delicious, and effective. It's a great source of giggles that will put you in a relaxed and happy state of mind. Expect to feel its effects in your whole body for a while. As this is a social strain, consider sharing it with a friend.
Tasty Mixpack for sale
As three experienced breeders, we know how to combine a good mix of seeds. So if you like sweet flavors and strong hitters, you are in the right place. Our tasty mix for sale contains a selection of three strains that we know you will love. Enjoy!

Breeder
Various
CBD Level
Up to 0.5%
THC Level
23%
Climate
Indoor / Outdoor
Yield indoor
500 Gr. / 18 Oz. dry weight per m²
Yield outdoor
650 Gr. / 23 Oz. dry weight per m²
Height indoor
Up to 125 cm / 49 inch
Height outdoor
Up to 200 cm / 79 inch
Flowering time
8 to 10 weeks
Indica / Sativa
60% Indica | 40% Sativa
Harvest Month
September / October
Grow difficulty
Easy / Moderate