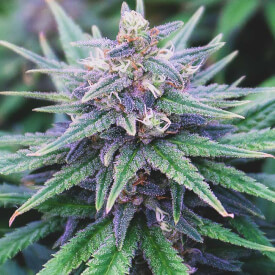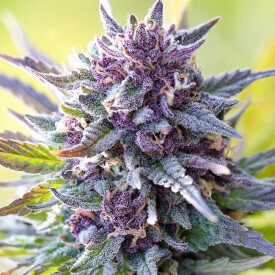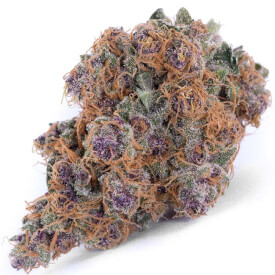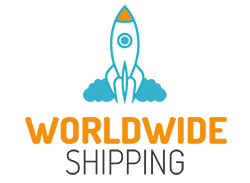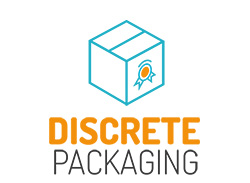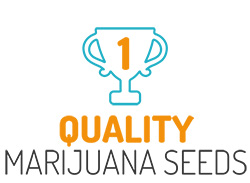 Blue Dream Auto Feminized
If you are looking for an excellent day strain that is easy to grow, look no further. Blue Dream has you covered.

Read Full Description
Blue Dream Auto Feminized
If you are looking for an excellent day strain that is easy to grow, look no further. Blue Dream has you covered.
This sweet, Sativa-dominant strain delivers a solid punch of energy.
With a THC level of 18%, this strain provides a pleasant and clear-headed high. As a result, it is possible to have a morning hit and still go about your day without feeling overwhelmed.
Blue Dream plants tend to be very thirsty, but producing a good crop from start to finish will still be easy to accomplish, even for first-timers. This is why Blue Dream Autoflower Seeds are such a popular choice among novice growers.
Blue Dream Auto Strain
To create this resilient and potent strain, our breeders crossed Blue Dream (a hybrid of Blueberry Sativa and NYC Diesel) with good, old Ruderalis.
Loyal fans of the strain claim its effects are the perfect balance of Sativa and Indica. That, combined with how easy it is to grow, makes it one of the most popular marijuana strains on the market.
With a flowering time of only 8 weeks, the plants are easy to manage while still delivering solid yields. You can expect to produce crops with buds containing 18% THC and 1% CBD.
Interestingly, Blue Dream's claim to fame comes from its medical, not recreational, use.
So why do patients adore Blue Dream so much? Well, it helps those struggling with severe pain from various illnesses without clouding their head. And isn't that what we all want from a day strain?
What does the Blue Dream Auto Strain taste and smell like?
The taste of the Blue Dream Auto Strain is quite strong but also delightful.
It has an intense aroma of blueberries mixed with a bit of vanilla and mango.
The taste is sweet, with a hint of spice. The sweetness is similar to that of blueberries, while the spice comes from the earthy undertones.
It is hard to find someone who doesn't appreciate both the smell and the taste of Blue Dream.
What are the effects?
People love Blue Dream for its unique, energizing properties.
The strain is potent but gives a very clear-headed high. It's a fun daytime strain that helps you stay positive and uplifted. It can even help you keep those creative juices flowing.
While the strain will make you feel like you're living the dream, getting into your REM phase might be a little challenging. The joyful and motivating effects of Blue Dream are long-lasting and will keep you awake if you use too much close to the bedtime.
Some people who are prone to paranoia or high anxiety levels have reported that Blue Dream may, in fact, be a bit too strong. If you are a novice cannabis user or have felt paranoid after consuming marijuana before, you should take it easy and "start low, go slow."
Dry mouth and dry eyes are also common reactions to Blue Dream, so remember to have some water with you and a few eye drops if you want to keep your eyes looking fresh.
Growing Blue Dream Auto
Blue Dream Auto Feminized seeds are an ideal choice for first-time growers or anyone who doesn't want to spend too much time and effort on their plants.
The plants flower automatically after 8 weeks and will give you a respectable yield of 360 gr. per plant when grown indoors and 450 gr. per plant when grown outdoors.
Blue Dream is known for being a thirsty strain, but other than that, it has very basic needs. In addition, the plants tend not to be very tall. You can expect your indoor plants to reach up to 70 cm, whereas growing outdoors will extend the height to 125 cm.
While you can grow this strain both indoors and outdoors, remember it is very susceptible to mildew and spider mites!
Blue Dream Autoflower Seeds For Sale
Are you a first-time grower? If so, Marijuana Seed Breeders have your back.
As professional breeders, we know how to create seeds that yield exceptional results - even if you don't have much experience growing cannabis. We provide a wide selection of high-quality autoflowering seeds, making it easy for you to grow without much effort.
Not only do we have these spectacular Blue Dream Autoflower seeds for sale, but we also help you learn how to grow marijuana.
Note that we have different types of Blue Dream Seeds available, including regular and feminized seeds, as well as our own Blue Dream X Chronic strain. We even have an entire Blue Dream grow kit available for sale.
If you're looking for a similar strain, but with higher THC levels, try growing our Strawberry Diesel. And if you're interested in a larger yield, then New York City Diesel may be the right choice (as long as you are up for a slightly more challenging growing process).
Remember that our marijuana seeds have a shelf life of up to 5 years. This means that instead of only buying for your next crop, you can purchase your favorite seeds now while they are still in stock and use them later.

Strain specifications
Blue Dream
Auto Feminized
Breeder
Henk
CBD Level
Up to 1%
THC Level
18%
Climate
Indoor / Outdoor
Yield indoor
350 Gr. / 12 Oz. dry weight per m²
Yield outdoor
450 Gr. / 16 Oz. dry weight per m²
Height indoor
Up to 70 cm / 28 inch
Height outdoor
Up to 125 cm / 49 inch
Flowering time
8 weeks
Indica / Sativa
15% Indica | 55% Sativa + Ruderalis
Harvest Month
Outdoor multiple times a year
Grow difficulty
Easy

Effects
Blue Dream
Auto Feminized
Stress
Pain
Depression
Insomnia
Lack of Appetite