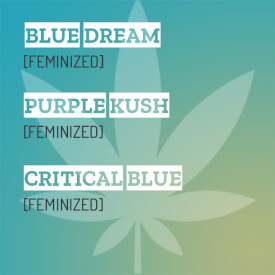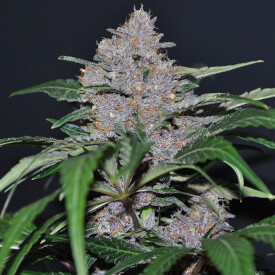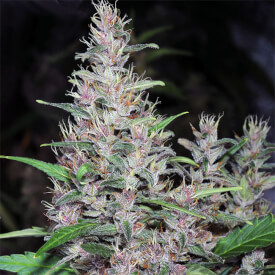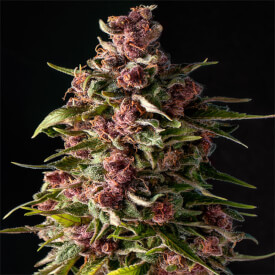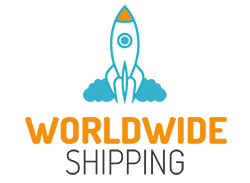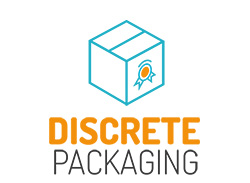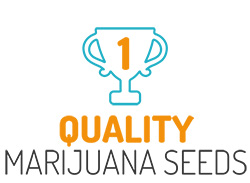 Purple Blue Mixpack Feminized
Especially for those that, aside from amazing flavor and scent also value an alluring array of visibly appealing blue and purple colors in their growing area, we now offer the Purple Blue mix pack.

Read Full Description
Purple Blue Mixpack Feminized
Especially for those that, aside from amazing flavor and scent also value an alluring array of visibly appealing blue and purple colors in their growing area, we now offer the Purple Blue mix pack.
And what better components could you ask for than Blue Dream feminized, Critical Blue feminized, and Purple Kush feminized.
Ranging from bright royal blue to deep magenta, the Purple Blue mix pack offers the very best in the field of dazzling aesthetics combined with impressive yield and potent effects.
This Purple Blue Mix Pack, as the name suggests, was composed based on their stunning hues of Purple Blue.
Content of the Purple Blue Mix Pack
Blue Dream feminized
Blue dream is a powerful Sativa-dominant hybrid, descended from the delicious Blueberry strain with its colorful hues and high THC content.
The Blue Dream strain is a perfect smoke during the day. It has a balanced head and body high which will last a long time. Chill with your buddies, stimulate your creativity and enjoy how you will feel after smoking this weed.
This strain has proven to grow fast, and it will flower early. Blue Dream has the taste of fresh blueberries and sweet diesel.
The THC content of Blue Dream feminized is 23%, while the CBD content is between 1 and 2,5 percent. This strain can be grown indoors and outdoors.
Critical Blue feminized
Enjoy the berry, lemon, and lime flavors of the amazing Critical Blue strain.
With a THC content of up to 21%, Critical Blue feminized is a great way to get high. Enjoy the relaxed body high. This is marijuana you want to smoke while chilling with friends.
Our Critical Blue has 30% colored buds in blue purplish color. It's really great to look at and a true pleasure to watch them grow into massive plants.
Critical Blue is easy to grow and maintain. Just keep in mind it loves the warmth, so it needs to grow in a sunny spot.
This strain has a medium height, so it's also very suitable to grow in a Sea Of Green (SOG).
Purple Kush feminized
What would our Purple Blue Mixpack be without a dash of purple? We've got you covered! Purple Kush is one of those varieties that excel in every way.
Famous for its wide array of gorgeous purple hues and potent effects, Purple Kush is -without a doubt- one of the most remarkable Kush strains available.
Purple Kush feminized has medium-sized, popcorn-like flowers and a highly dense bud structure.
She distinguishes herself from other Indica hybrids with her stunning colors which, depending on the phenotype, may vary all the way from deep green to a violet purple and dark magenta.
Once you've successfully harvested your crop, make sure to properly cure the buds to preserve the colorful flowers by hanging the buds upside down for about a week.
Everything you need to give your Bestseller mixpack seeds the best possible growth!
Once you've prepped your soil, and germinated your marijuana seeds, it's time to bring out the big guns.
Our NPK fertilizer kit consists of 4 different 100% water-soluble NPK fertilizer mixtures with all the necessary trace elements for perfect growth. For all 4 different stages of the plant's development, our kit offers a corresponding, carefully composed mix that meets the correct nutritional requirements.
Curious how this kit will benefit your plants? Please check out our NPK Fertilizer Kit user guide.
All the results we achieved with our Purple Blue mixpack seeds were on soil, with added mycorrhiza and NPK nutrition.
You are important to us!
Whether you're a newbie or seasoned grower, if you have any questions, simply give us a call or send us an email. We pride ourselves on always putting the customer first so your wishes are super important to us.
We offer germination instructions with a germination guarantee. If you are not 100% satisfied with your cannabis seeds or any of our other products, please just let us know!
Simply click add to cart, and check out our payment methods. If you buy your Purple Blue mixpack today we promise you, you will never want to order at another seed bank ever again! To see what other customers have to say about us, check out our customer ratings on KiyOh. We are beyond proud that many have rated us 5 stars!
Love the Purple Blue mixpack? Check out our other amazing mixpacks as well!
We also offer Delights from Down Under, heavy yielders that are stress-resistant, and will thrive in high temperatures.
A Big harvest mixpack for an unparalleled massive yield. The ultimate Autoflowering mixpack that will be ready before you know it.
A "stoned to the bone" Indica mixpack (which will definitely get you through everyday madness without a care in the world 😉) or Higher than the sun Sativa mix. The Outdoor Mix will ensure a summer you will never forget.
Simply add to the shopping cart and order your favorite mixpack today!

Strain specifications
Purple Blue Mixpack
Feminized
Breeder
Various
CBD Level
Up to 3%
THC Level
21 to 23%
Climate
Indoor / Outdoor
Yield indoor
550 Gr. / 19 Oz. dry weight per m²
Yield outdoor
800 Gr. / 28 Oz. dry weight per m²
Height indoor
Up to 120 cm / 47 inch
Height outdoor
Up to 300 cm / 118 inch
Flowering time
8 to 10 weeks
Indica / Sativa
Miscellaneous
Harvest Month
September/ October
Grow difficulty
Easy / Moderate